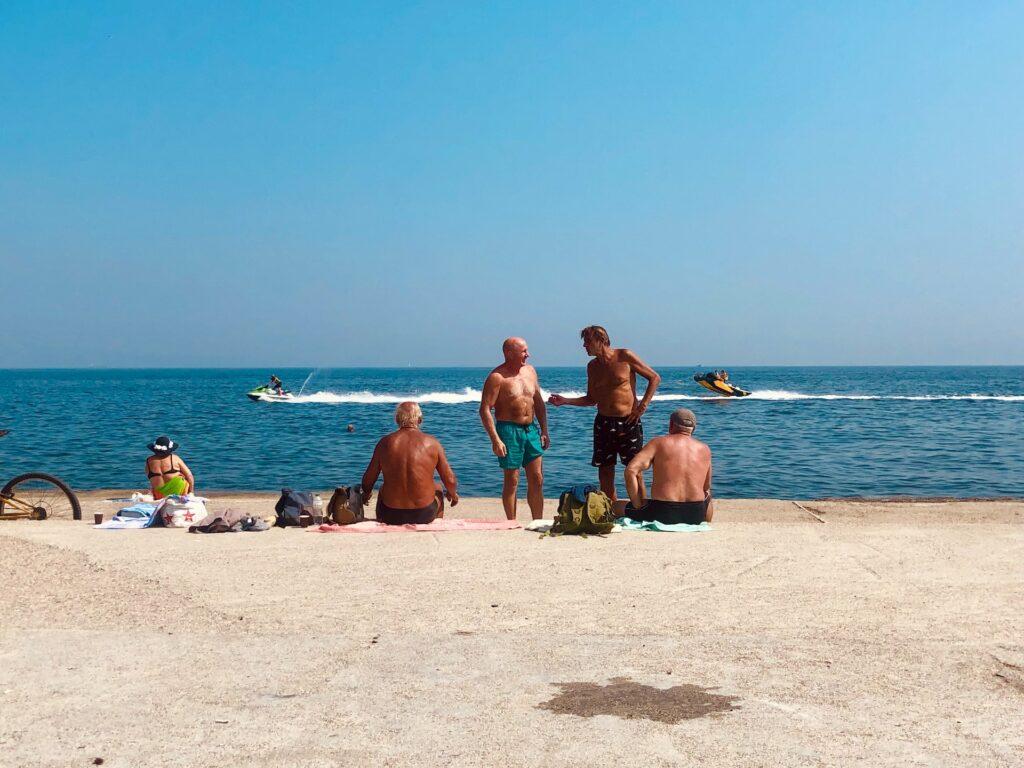 Are you considering retiring to France? With its European lifestyle, delicious food, miles of coastline and traditional inland villages, retiring to France is a popular choice for many foreigners who want a better way of life.
What do you need to do to retire in France? This article on retirement in France for UK citizens gives you all the information you need on retiring in France, from making the decision through to planning the steps you need to take to make your dream a reality. We'll also give you ideas on where to settle in France according to your interests. Whether you love the beach, walking in nature or just relaxing at a pavement café with a 'café au lait' or glass of wine, retiring to France from the UK could be the best move you ever make.
Why retire in France?
If you're wondering – can I retire to France from the UK, the answer is yes!
Some of the reasons many people retire in France are the options it offers for cheaper property than the UK. The diverse range of locations to live in and the French culture of enjoying life. Add to this, the fantastic cuisine, quality wines1, the excellent healthcare system and easy access to the UK and the rest of Europe. Retirement in France is a tempting option.
If you want to spend your later years living in a country where you can dine outdoors for most of the year, explore the magnificent countryside – from the vineyards of Bordeaux to the lavender fields of Provence – and live life at a slower pace, France is for you.
Cheap property – you can buy a 3-bedroom bungalow in the heart of the Dordogne countryside for €300,000 or a modern townhouse with a garden for €120,000. A comparable property in Gloucester in the UK would cost you £500,000 for a country bungalow and £275,000 for a semi-detached townhouse.
Low cost of living – a meal out is 13.9% more in the UK; a cup of coffee will cost you 14.2% more and a bottle of wine 13.9% extra. The basic utilities such as electricity, gas and water are 32% higher in the UK and the Internet will cost you 15.6% more. If you like to keep fit gym membership is 7.3% more expensive in the UK, while a cinema ticket is 3.5% more.
Good connectivity and infrastructure – while you'll need a car if you plan to live in a rural location, public transport in the main towns and cities is well-connected.
You'll also find a large ex-pat population in France, with a total of 7.7% of the population being immigrants. There are many retirement communities in France that can help you settle, although you may prefer to immerse yourself in the French way of life, especially if you speak the language.
You have to prove your monthly income is equal to or above the French minimum income when you apply for a residence permit. The amount is around €1,700. 
France does not currently offer the Golden Visa option.
Once you are a resident of France you are liable to pay tax if you are retired and have an income from anywhere in the world or property wealth. To calculate the amount of tax you may have to pay, you should speak to a tax advisor who understands the French system.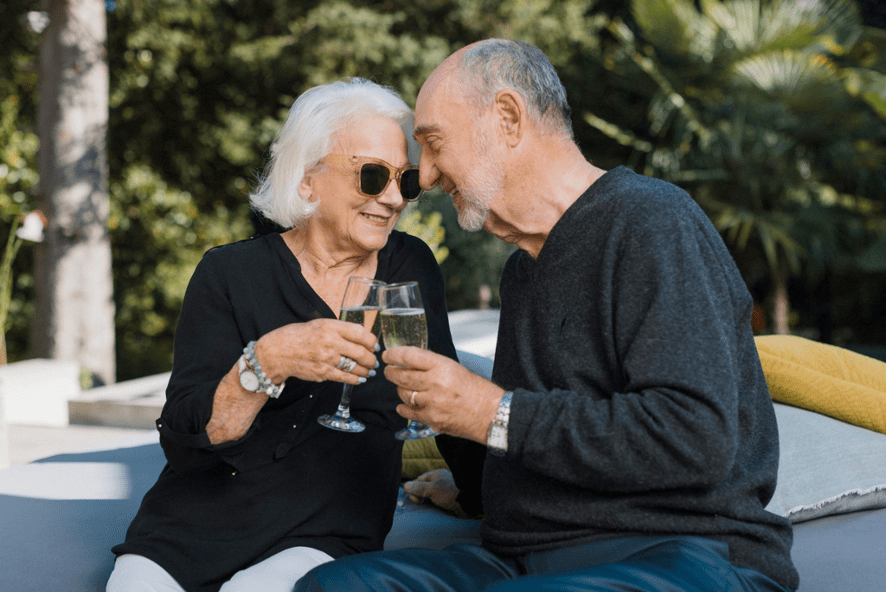 Your moving to France to retire checklist
12 months before
Put your house on the market if you intend to sell.
Get all your paperwork, such as pensions, credit cards, loans, stocks and shares etc. in order
Research any fees or taxes you will have to pay in France so you don´t get any surprises, for example, you will pay habitation tax (similar to Council Tax in the UK), whether you own or rent a property. You will also be taxed on your pension, as this is classed as income.
Take French classes to improve your language skills. Whilst speaking French is not essential, even a few words can be an immense help. There are lots of free apps available, such as DuoLingo, which make learning French fun. Alternatively, you could sign up for a local class where you'll also make new friends.
Plan your budget so you know how much you need to retire in France. Eating out is cheaper in France than in the UK, with an average meal being 13.9% cheaper, a cup of coffee 14.2% less and a bottle of wine 13.9% less. Utilities and also tend to be cheaper, whilst some supermarket food and clothing can be more expensive.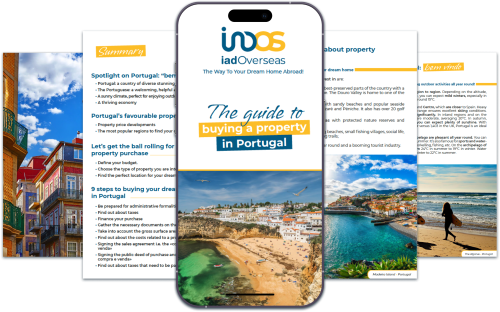 All you need to know
Receive free guides and advice from our experts delivered straight to your inbox.
Get the guide
6 months before
Talk to us about the kind of property you'd like to buy, so we can start the search.
Open a French bank account, which you can do as a non-resident and change the account to a resident's account when you are living in France. You will need your resident's permit, a valid passport and proof of income (your pension or other income/savings).      You'll need a French bank account to pay bills such as utilities, your phone bill and the Internet. It's more common to go to a local bank and open an account rather than do it online. This is also a chance to get to know your bank manager, who you may need for advice on other financial issues in the future.
There's no need to worry about how to retire in France with healthcare if you're of retirement age. In the WHO world healthcare rankings, France is 7th compared to the UK which ranks number 10.
If you have paid into the UK healthcare system you will be entitled to healthcare in France. You can find out more on the UK government website. Retirees who don´t have UK healthcare cover will need to take out private health insurance in France.
If you are entitled to a UK pension, you can apply for an S1 form from the UK Pensions Department and find all the information you need on the NHS website. This entitles you to some healthcare, but you may need to pay for certain treatments and medication.
The healthcare system (l'Assurance Maladie) comes under the heading of social security and retirement in France.  You can join the CMU (Couverture Maladie Universelle) which is designed for foreigners with a state pension in their own country moving to France.
3 months before
Check which visa you will need and apply.
These are the current visa requirements:
If you intend to stay in France more than three months  you will need a long-term visa and eventually a resident's card.
A long-stay visitor visa is required if you want to stay in France but are not sure for how long. This must be validated by the Administration once you arrive in France.
If you know you will be staying in France to live you will need to apply for a residence permit (carte de résident) which is renewable every 10 years.

Apply for your long stay visa if you need one. If you intend to stay in France long-term you will need a long-term visa « Visa de long séjour pour retraite » (Long-stay visa for retirement) and eventually a resident's permit (carte de resident).Start by contacting the French consulate in your home country to obtain the necessary application forms and information on required documents. Generally, you'll need proof of stable income, health insurance, and confirmation of accommodation arrangements.You'll likely have to schedule an appointment to submit your application in person. Be thorough with all necessary documentation, as incomplete applications can lead to delays. Once submitted, the processing time varies, but it's wise to initiate the process well in advance of your planned retirement date. Regularly check the status of your application and, upon approval, you can embark on your journey to enjoy the charm and beauty of retired life in France.
Apply for your residence permit once you arrive in France.To obtain a Carte de Résident you'll need to visit the local Prefecture office in your area of residence. Ensure you have all required documents, including proof of address, financial stability, and a valid visa if applicable. Book an appointment if necessary (local interpreters will often do this for you and accompany you to your appointment if you don´t speak French). The process can take several weeks. Keep up to date with any changes in requirements, and once approved, your Carte de Résident will grant you legal residence status.
The local Prefecture in France plays an important administrative role. It oversees various matters, including immigration, vehicle registration, and residence permits. 
You'll need to visit the Prefecture for administrative tasks like obtaining a driving licence or residence permit. 
Start to plan which furniture and belongings you wish to take and book a removal company. The average cost for the removal of the contents of a 4-bedroom house from the UK to France is currently £4,500. You can reduce this cost by only taking what you need and buying items such as beds and white goods in France. Remember that the plugs in France are different, with 2 pins instead of 3 so you will need adaptors if you intend to take your UK electrical items with you.
You may also wish to import your UK car, on which you will have to pay customs duty. You then have 12 months to change your car to French registration, for which you will need 2 key documents:

"Certificat de Conformité" – provided by the car manufacturer to state your vehicle complies with European standards.
"Contrôle Technique" – the equivalent of an MOT to ensure the vehicle is safe to drive, obtained from a garage.
To change your car to French registration you will need to go to your local Prefecture. Take documents such as your current registration, proof of residence, and the mentioned above. The process involves paperwork and potentially an inspection. Booking an appointment beforehand is advisable. Once completed, your car will be officially registered in France, complying with local regulations.
If you are taking pets, arrange their vaccinations and transport. Dogs and cats (and some other animals) must be declared to customs on entry to France. You will need to show up-to-date vaccination certificates.The most common pets to bring with you are dogs and cats, which must be microchipped and have a recent anti-rabies vaccination. This vaccination must be proven to be effective within 3 months of your arrival, and your vet will be able to do this test.
Apply for an international driving licence which will allow you to drive in France on your UK licence for up to a year. However, we advise you to apply for a French driving licence as soon as you arrive, as this can take some time.To obtain a French driving licence, visit the local Prefecture in your area. Bring essential documents, including proof of residence, identity, and a valid medical certificate.
Book your tickets.
If you're looking for a country with property prices cheaper than the UK, France is the perfect choice. Add to this a great way of life and easy access to friends and family in the UK and you can see why so many people choose to retire to France.
Contact us for more information on how to make your retirement move to France.