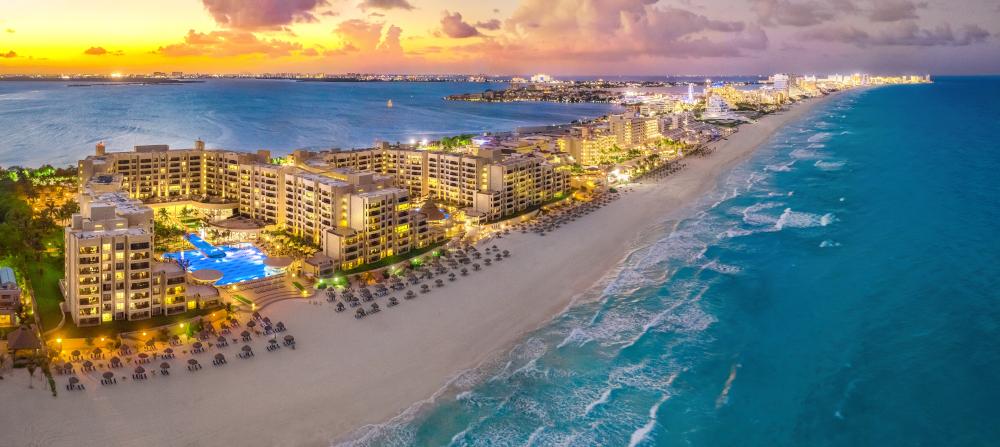 Do you dream of a year-round vacation under the sun and palm trees? Mexico, and more specifically the Riviera Maya, could be the ideal destination for finding the home of your dreams (and getting a great deal!).
Why invest in Mexico?
A dream destination
The Riviera Maya is located on Mexico's east coast, facing the Caribbean Sea, making it a popular destination for tourists. Breathtaking beaches, turquoise waters and lush greenery make the Riviera Maya a must-see destination in Mexico.
Tulum, one of the towns on the Riviera Maya, has even been named the 4th most fashionable tourist destination! Tulum and the entire Riviera Maya offer a host of idyllic, exotic landscapes for Westerners in search of something different. Each place is unique: perfect for taking a photo and posting it on Instagram! Success guaranteed.
In addition to its landscapes, the Riviera Maya combines Mexican culture – and its unmissable gastronomy! – and entertainment – bars, restaurants, nightclubs: it's impossible to get bored! As you can see, the Riviera Maya is a popular destination for tourists, and one that keeps them coming back for more. In fact, it's Mexico's 3rd most popular tourist destination after Chichen Itza and Teotihuacan.
The Riviera Maya attracts millions of visitors a year, with Cancun airport set to become the second largest international airport after Dubai by 2021. The region is adapting to this ever-increasing flow of tourists by implementing numerous projects, some of which will be completed by 2023: the Tren Maya, a rail network that will serve all the states of southeastern Mexico, and the Tulum international airport.
Great return on investment
Investing in the Riviera Maya for seasonal or annual rental management can bring you a lot.
In fact, the region offers a 2-figure return on investment, between 10 and 15%! You can recoup your investment in just 3 to 5 years. Not to mention the fact that property values increase by around 10% a year.
The Riviera Maya attracts not only tourists. Mexico enjoys a strategic geographic location, bordering the United States, not far from Canada and close to South American countries such as Brazil and Argentina. Many U.S. and Canadian residents buy their second homes in Mexico, for its lifestyle and lower cost of living.
How to invest in Mexico?
Legal aspects
In Mexico, you can invest in your own name or in the name of a company. The bank owns the contract via a trust, but all rights are given to the foreign investor. The contract is for 50 years and lapses in the event of resale to a Mexican. After 50 years, the contract is renewed by tacit agreement. It is also possible to bequeath your Fideicomiso if this is stipulated in the contract.
If you'd like to find out more about the legal procedures involved, our iad Overseas advisors* will be happy to help you with your purchase!
As far as costs are concerned, you should expect to pay between 5% and 8% of the property price in notary fees. You will also be asked to pay $2,000 to set up the Fideicomiso, followed by $500.
Administrative procedures
In view of the high demand for property from foreign buyers in Mexico, accounting and declarations are particularly simplified. Taxes on rentals (16%) are levied directly by organizations such as Airbnb.
If the property is resold, a state tax of 5% and capital gains tax of up to 30%, according to a published scale, must be paid.
To help you with your real estate investment in Mexico, don't hesitate to contact an iad Overseas agent* in Mexico, who will help you with your research and procedures. Among other things, you'll be able to take advantage of additional discounts from developers who work alongside our iad Mexican agents.
Register to our webinars
To find out more about the properties on offer, where to invest and how, our iad Overseas agents in Mexico organize monthly webinars on Zoom to discuss these topics. You'll be able to discuss your own project with a Mexican iad agent in a private Zoom room.
If you're interested in an « Investing in Mexico » webinar, register bellow !
Place an offer
Reserving a (new) property couldn't be easier! All you have to do is make a credit card payment of $2,000. You then have a 15-day cooling-off period. If you withdraw, the $2,000 paid will be refunded.
At the end of the 15-day cooling-off period, you will be asked to pay 30% of the value of the property. You will then be required to pay 60% of the value of the property during construction. Our iad Overseas agents can negotiate the payment schedule with the developer. The remaining 10% will be paid when the keys are handed over.