With its stunning natural beauty, vibrant culture, and excellent internet connectivity, Portugal is the ideal place to work remotely. The relaxed lifestyle and numerous co-working spaces make Portugal the perfect destination for digital nomads, entrepreneurs, and freelancers. If you're looking for the right work-life balance, and an inspiring place to live, Portugal is the place to be!
Why telework in Portugal?
Since the COVID-19 pandemic, remote working has become a popular choice for many people and the trend is continuing. A report published by Statista in 2022 (the most up-to-date figures available) showed that Portugal ranks as the best country from which to work remotely, in terms of climate, cost of living, social life and culture. Add to this travel magazine Condé Nast's readers voting Portugal as the best country to travel to in the world and you can see why Portugal is a popular destination for remote workers.
Embrace the digital age
With the rise of digital technology, remote working has become easier than ever before. The distance between countries and offices is shrinking as we take advantage of the various communication networks available. You can have a Zoom meeting with your boss, talk to clients on Google Meet or use WhatsApp or Telegram to message colleagues, all from the other side of the world.
Fast Internet speed is essential for remote workers, and Portugal offers good connectivity. It is also on the European Commission's Agenda Portugal Digital – a project that aims to develop access to digital technologies in Portugal.
Benefit from the relaxed lifestyle
So many of us seek a better work-life balance. Portugal offers a relaxed pace of life, allowing remote workers to focus and be inspired by their surroundings. The beautiful natural landscapes, including beaches and rugged mountains, provide the perfect backdrop for remote workers looking to recharge their batteries and find inspiration.
Remote working in Portugal means you could be using your laptop at home in your dream property, a co-working space, or even a beachside café. You have the flexibility to plan your own schedule and work when it suits you, leaving plenty of time to explore the sights Portugal has to offer.
Enjoy the lower cost of living
Portugal offers an excellent quality of life and an affordable cost of living making it an attractive option for digital nomads looking to save money. The cost of food, transport and housing is cheaper than in the UK, as you can see in the comparison table below.
| Item | UK (converted to UK (converted to €) | Portugal |
| --- | --- | --- |
| Basic restaurant meal | 17.15 | 9.00 |
| 3-course meal for 2 | 68.62 | 40.00 |
| Glass of beer | 4.80 | 2.00 |
| Cappuccino | 3.40 | 1.45 |
| Bottle of wine | 8.00 | 4.00 |
| Monthly travel pass | 76.05 | 40.00 |
| Utilities per month (gas, electricity, water) | 230.40 | 112.55 |
| 1-bedroom apartment rent per month (city outskirts) | 815.57 | 592.39 |
If you're considering buying a property in Portugal there are plenty of styles to choose from – villas by the sea, countryside homes, modern apartments… A knowledgeable iad Overseas property consultant can help you find your dream home. We can also help you find a property to rent in Portugal if you're not ready to buy.
Tip 1: How to work remotely in Portugal after Brexit
If you're considering Portugal as your remote work destination, you'll need to obtain a visa. Fortunately, Portugal offers a Digital Nomad Visa (also known as the D7) for remote workers which allows you to live and work in the country for up to a year and can then be extended to 5 years.
To apply, you'll need to provide proof of income, health insurance, and a clean criminal record. You'll also need to show that you can support yourself financially while living in Portugal, earning at least €760 per month (the Portuguese minimum salary).
You can submit your application at the Portuguese Embassy in London or apply at the SEF (Serviço de Estrangeiros e Fronteiras or Foreigners and Borders Service) within 3 days of arriving in Portugal.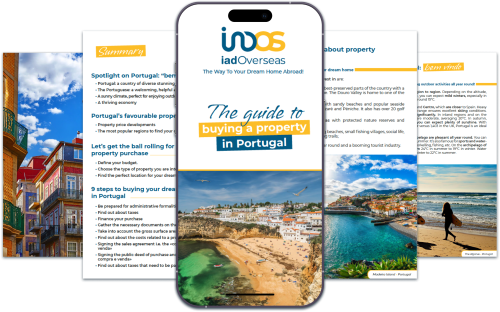 All you need to know
Receive free guides and advice from our experts delivered straight to your inbox.
Get the guide
Tip 2: Find a supportive community for Digital Nomads
A major advantage of teleworking is the flexibility it gives you (no need to ask the boss if you can finish early to hit the beach), but it can feel isolating too. That's where co-working spaces come in. Portugal is home to a growing number of co-working spaces, making it the perfect destination for digital nomads seeking interaction with others.
These spaces offer a range of amenities, including high-speed internet, meeting rooms, and even social events. They provide a place for remote workers to collaborate, network, and socialise with like-minded workers.
The Coworker website lists almost 300 co-working spaces throughout Portugal and you can book online, whether you need a private office or an open area.
You could also consider renting an office with other teleworkers and share the cost between you. This would give you a base where you can 'go to work' each day without the pressure of a company office. You may choose to do this if you plan to stay in Portugal long-term and want the camaraderie of working in a small office.
Tip 3: Research where you want to live in Portugal
Where is the ideal location for remote workers in Portugal? It all depends on the type of environment you prefer and your interests.
This beautiful country has plenty of ideal spots that offer a perfect blend of work and leisure time. Here are a few ideas to help you decide where your home will be while you're in Portugal.
The capital city Lisbon is a bustling location with plenty of co-working spaces and cafes you can work from. With its friendly vibe, delicious food, and stunning architecture, you'll never run out of things to do when you're not working.
If you're looking for a coastal location, the Algarve is a great option. With its beautiful beaches, warm climate, and laid-back atmosphere, it's the perfect place to relax after a long day of work.
For a truly unique experience, why not try working from a rural location like the Douro Valley? This region is famous for its vineyards and is ideal to escape the hustle and bustle of city life.
The second largest city, Porto, is another good choice for remote workers. With its narrow streets, trendy café culture and beachside location, Porto offers a laid-back atmosphere.
Tip 4: Make the most of the outdoor lifestyle
Teleworking allows you to take advantage of the many outdoor activities Portugal has to offer.
Hiking – from coastal walks to mountain trails, why not discover Portugal on foot? South of Lisbon you'll find the Serra da Arrábida Natural Park, the Rota Vicentina in the west Alentejo region and the Sagres Headland on the southernmost tip of the country.
Surfing – most of the Portuguese coastline borders the Atlantic Ocean, making it a common surfing choice for beginners and professionals. The popular surfing beaches tend to be between Lisbon and Porto at beaches such as Ericeira or Nazaré, while the Algarve also offers plenty such as Albufeira and Amado.
Golf – Portugal is a famous golfing destination with hundreds of golf courses and is home to many international tournaments. From the many courses on the Algarve such as Quinta do Lago and Dom Pedro Vilamoura to those further north, for example, Palacio Estoril; there are plenty of layouts and breathtaking views to choose from.
Mountain biking – thousands of mountain biking trails in Portugal will take you through national parks and mountain scenery, along coastal paths and into forests. From cycling along the cliffs of Alentejo to the inland routes of the Douro Valley, discovering Portugal on two wheels is a great way to experience your new home.
Water sports – if you love new adventures the many water sports on offer in Portugal will keep you entertained. These include sailing, windsurfing, kayaking, paddle boarding and scuba diving.
Tip 5: interact and make new friends
Your new life in Portugal is your chance to build your network of friends and acquaintances. Whether you join the local tennis club, wine appreciation group or yoga class, this is the way to meet new people.
Many Portuguese towns have thriving ex-pat communities where you can swap stories of your move and get inside information on the best builders, places to shop or where to eat out. In addition, you should attempt to join in with local festivities where you live to show you wish to become part of the community.
This is also a good way to meet fellow remote workers and the ideal opportunity to break for coffee a couple of times a week.
Why Portugal is the perfect destination for remote working
Portugal's unique combination of way of life, pleasant weather and culture make it the perfect destination for remote workers looking to balance work and leisure in a beautiful and welcoming setting.
If you're planning to escape the traditional office environment and enjoy a better quality of life contact our iad Overseas consultants who can advise you on your move and help you find a property in Portugal.