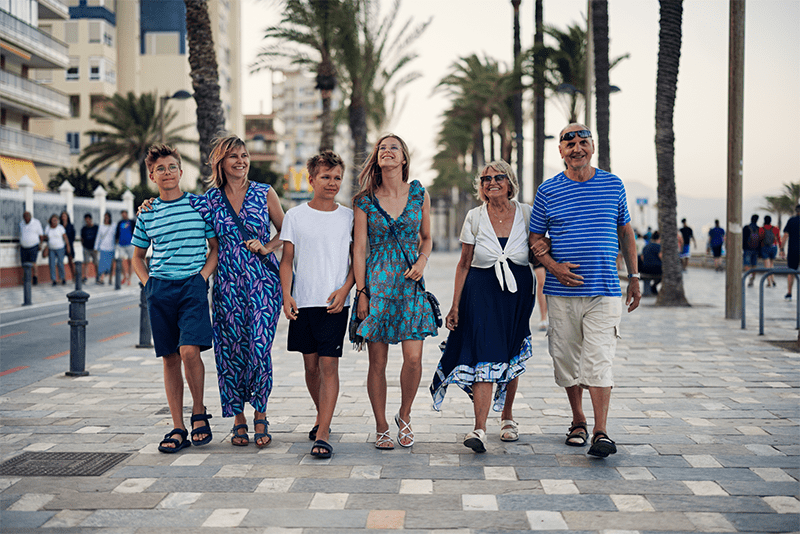 Are you thinking of moving to Spain with your family? Do you need information on the best place to live in Spain with a family? Let us help you find your dream location and tell you about the best family-friendly places in Spain.
Spain is a large country with a diverse range of landscapes and climates. It's also one of the most popular destinations to move to for a new life in the sun, despite Brexit. Data from Statista shows that from 2019-2020 the number of British people becoming Spanish residents increased by 9.5%, proving Spain will always be a popular choice for a new life abroad.
How to choose where to live in Spain with your family
There are several criteria to consider before you make the move to Spain.
Schools and childcare
Education in Spain is compulsory for children aged 6-16, although many children attend nursery before starting school.
If you plan to send your child to a Spanish school they'll quickly learn to speak the language. Younger children will find it easier to pick up Spanish than teenagers, so if you have older children you should consider paying for private Spanish lessons.
Many regions in Spain speak a local dialect, for example, Catalan in Cataluña, Valenciano in the Alicante region and Galician in Galicia. Although people will also speak the main form of Spanish, Castillian, schools often teach in the local language and in Castillian as a secondary language.
Some British families living in Spain choose to send their children to an international school in Spain. These are privately run and fee-paying. Most follow the British curriculum and offer the opportunity to take British qualifications at GCSE and A level.
It's important to carefully consider which kind of school to send your child to. Some things to think about are:
integration – your children will mix with the local community, and you will meet Spanish parents if they go to a state school
local dialect – this is unlikely to be understood outside the region
long term plans – will the Bachillerato be recognised where your child may wish to go to university?
Can you afford international school fees long term?
If a child has siblings will they all attend the same school?
If your children aren't of school age you can send them to nursery from the age of 2 months (depending on the nursery's minimum age). This is ideal if you will be working while living in Spain, and the costs are much cheaper than in the UK at between €100-€400 per week including meals.
Healthcare
Your and your dependent's healthcare in Spain will be paid for by the state if you are employed or self-employed (autónomo). This will need to be registered at the Seguridad Sociale, which a gestor can do on your behalf. Each member of the family will then be issued a SIP card (tarjeta sanitaria) which you show at all medical appointments.  You should also carry your SIP card with you in case of an emergency as you will be asked for it before treatment.
If you do not have the right to state healthcare you will need to pay for private health insurance.
If your children join clubs, such as football, you will need to prove you have health cover, either with a SIP card or private insurance.
Cost of living
The cost of living for a family in Spain is generally cheaper than in the UK. Here are some examples of average prices converted to £ :
| | Spain £ | UK £ |
| --- | --- | --- |
| Meal in inexpensive restaurant | 10.70 | 15.00 |
| Cappuccino | 1.55 | 2.93 |
| Bottle of wine | 4.46 | 7.00 |
| Local transport one-way ticket | 1.29 | 2.50 |
| Petrol | 1.48 | 1.56 |
| New car – VW Golf or equivalent | 20,519 | 22,000 |
| Utilities for 85m2 property (gas, electric, water) | 128.44 | 190.22 |
| Cinema ticket | 7.14 | 10.00 |
| Childcare (nursery) per month | 322.61 | 1,035 |
| International school per year | 6,627 | 13,530 |
Shopping in local markets and eating in cheap bars and restaurants adds to the cheaper cost of living. Plus, the outdoor way of life means you spend less on heating (although some areas of Spain can be very cold for 2-3 months of the winter).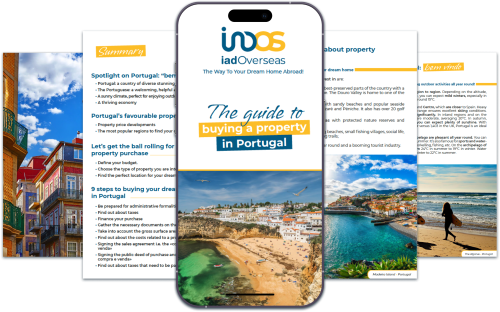 All you need to know
Receive free guides and advice from our experts delivered straight to your inbox.
Get the guide
Leisure activities
Spain offers a variety of things to do for families and is the chance to get away from screens and electronic devices and spend valuable time together. From walking in the countryside to trips to the beach, there's always something to do for families in Spain.
Most Spanish towns offer a variety of clubs for children including:
sports (football, tennis, judo, padel tennis, gymnastics)
theatre (acting, dancing and singing)
music (piano, guitar, drums, recorder)
If you live in a small town or village your child could also join the group that forms part of the local fiestas. Known as the 'Quinta', groups of the same age take part in processions, musical events and celebrations throughout their school years and beyond, forming lasting friendships.
Learning to swim is very important if you're moving to Spain with your family. Many properties have swimming pools, and there is also a public outdoor swimming pool in many villages, where people meet to relax and enjoy the wonderful summer weather.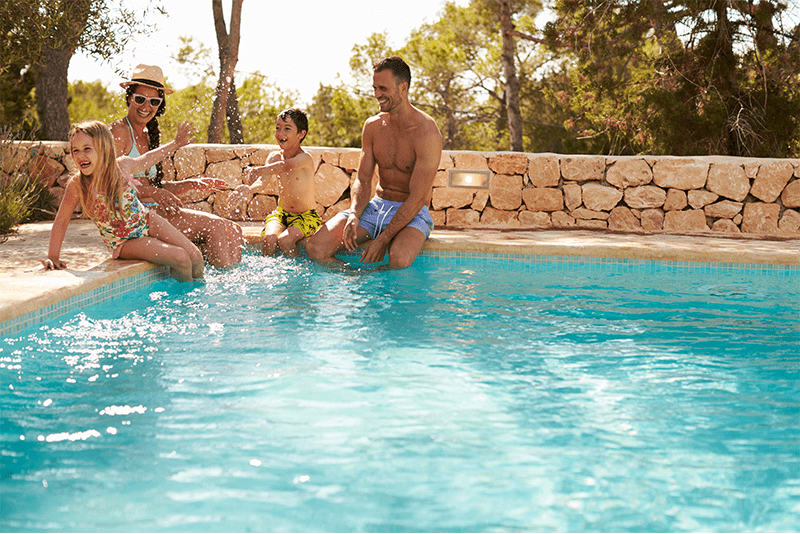 Where are the best places to live in Spain for families?
Whether you intend to rent a property in Spain first or buy a home in Spain immediately, there are plenty of regions to choose from.
Do you select a home near the beach, in the mountains or a city? It all depends on the needs of your family, for example, whether you have young children, want to live near family such as grandparents or be located near your place of work. One thing is guaranteed though, you'll always be made welcome by the locals and the ex-pat communities that exist in Spain.
Many families choose to live on the Costas of the south and east of Spain, where property inland is much cheaper than on the coast. Alternatively, you may decide to live in the cooler north of Spain or a city such as Madrid or Barcelona.
Here are some ideas for the best places in Spain for families:
Alicante
The region of Alicante stretches along the Costa Blanca and is one of the cheapest places to live in Spain. Here you can buy a 3-bedroom house in the town of Pego for €248,000 or a 6-bedroom traditional Spanish townhouse for €140,000.
There are plenty of schools to choose from in this region, whether you want your children to join the Spanish or international schooling system. Two popular international schools are the XIC College in Javea and Elian's British School in La Nucia.  To find out more about international schools both here and throughout Spain, visit the International Schools Database.
Alicante has a large airport with many flights to the UK and the rest of Europe, making it one of the best places to live in Spain for families that want to maintain a connection with home.
It's also a great place to welcome visitors, as there's so much to do, from walking in the mountains to lazy days on the Costa Blanca beaches. Alicante is the ideal place to live if you love water sports. There are sailing, kayaking and paddle boarding schools all along the coast. The city of Alicante and many of the larger towns all have modern co-working spaces with fast internet connections, which is good news for remote workers.
For your peace of mind, one of the largest hospitals in the region is located in Alicante, the General University Hospital.
Malaga
Further south on the Costa del Sol, this popular resort combines traditional Spanish living with a large ex-pat community – perfect if you want the best of both worlds. Property in Malaga ranges from a 3-bedroom apartment for €157,000 to a 4-bedroom duplex with outside space for €310,000. There are several districts to choose from in the city. The outskirts include popular residential areas in Mijas, Fuengirola and the exclusive town of Marbella.
Located next to the sea, in Malaga you can enjoy beach life and take family strolls along the boardwalk (known in Spanish as the 'paseo') and also have easy access to the stunning Andalucian countryside.
There are over 30 international schools in Malaga, including the Torrequebrada International College and the Sotogrande International School which take children from age 3 up to 18.
There are plenty of remote working hubs in Malaga. The diverse international community provides plenty of opportunities to network and meet new people.
Malaga is the perfect base to explore nearby Granada and the famous Alhambra Palace, the quaint town of Mijas, and Gibraltar with its famous monkeys.
Transport is excellent in Malaga with the international Malaga Costa Del Sol Airport, a fast train service to Madrid and other major Spanish cities and a reliable bus network.
Should you need medical care, there are several public and private hospitals in Malaga, the main one being the Hospital Regional Universitario de Málaga.
Granada
At the base of the Sierra Nevada, Granada is ideal for active families who want to spend time outdoors away from the tourist beaches. Perfect for skiing in the winter and packed with culture from the Alhambra Palace to the magnificent architecture, Granada is one of the most family-friendly cities in Andalucia, Spain to live in.
This medium-sized city has a large student population who attend the university, giving it an international feel. You'll find many private and public schools in the Granada region, including the well-known, private Granada College, which offers bilingual classes.
Parents can find several coworking spaces in the city of Granada, making working in Spain a social experience. If you're a freelancer or remote worker, sharing space is a great way to make friends and avoid isolation by basing yourself in an office environment.
Federico García Lorca Granada Airport has regular flights to London and the rest of Europe.
The main public hospital in Granada is the Virgen de las Nieves University Hospital. There are also several private hospitals.
Property prices in Granada are cheaper than on the coast, with a 5-bedroom home with land selling for €250,000 in the town of Guadahortuna – perfect for families looking for a rural way of life.
Cataluña
Cataluña on the Costa Brava, is one of the good places to live for a family in Catalan Spain. This region has a strong sense of independence (although is officially part of Spain) with its Catalan language and influence. Whether you want the buzz of living in Barcelona or a quieter life in a small village, Cataluña has plenty of regions to choose from, such as Girona and Tarragona.
You'll find a range of international schools in and around Barcelona, including St. Peter's and St. George. In fact, the city has the second largest number of international schools after Madrid. Popular with both ex-pats and Spanish families, these schools offer internationally recognised qualifications. Of course, you may also choose to send your children to a state school where they will primarily learn in Catalan.
Some of the must-see places in Cataluña include the famous Gaudi architecture in Barcelona, the largest amusement park in Europe Port Aventura, and the fishing village of Cadaqués, where the artist Salvador Dalí made his home. Football fans will love Barça's famous stadium in Barcelona.
Barcelona is ideal for remote workers, with over 280 dedicated digital workspaces. Other cities in the region such as Tarragona, Girona and Lleida all offer remote working offices, as do many of the towns in the area.
Cataluña offers an efficient healthcare system, with both private and public hospitals. The public Cataluña General Hospital is a modern health centre with the latest technology.
Cataluña has two regional airports, Barcelona and Girona, and is well-connected by motorways to the rest of Spain. It's also easy to head up to France for a break from this region, making it perfect if your family loves to explore.
If you'd love to live in Barcelona with your family, for its cultural aspect, modern living and proximity to the sea you could buy a 3-bedroom city apartment for €360,000 or a 5-bedroom home with a garden in El Vendrell in Tarragona for €330,000.
Valencia
If you're looking for a mix of traditional Spanish life, the best lively family beaches in Spain and affordable property prices then take your search for a home in Spain to Valencia and its outskirts.
Another popular university city, Valencia maintains a traditional Spanish feel due to its architecture and culture. Students can study at a Spanish public school or a private international school such as the British School of Valencia. Many Spanish-educated ex-pats attend the University of Valencia, which is one of the oldest in Spain.
The city of Valencia is famous for its Oceanographic centre, the Arts and Science Museum and the Bioparc. Outside the city are plenty of beautiful beaches and inland mountain trails to discover. Mountain biking is a popular sport in the Valencia region, and you'll see world-famous teams practising here year-round.
Valencia is full of co-working spaces and bars where you can set up your laptop and work while enjoying tapas or a coffee. Many Spanish towns in the Valencian community, such as Denia or Gandia also offer comfortable teleworking hubs with fast internet connections.
The Valencia region is safe to live in, and the city is considered very safe, although as with everywhere, it is advisable to always be on your guard. The bus, metro and tram networks operate within the city, and the railway line extends to many villages along the Costa Blanca.
Valencia Airport connects with the UK and the rest of Europe but is not as large as Alicante Airport further south.
The main public hospital is the Hospital Universitari i Politècnic La Fe, which undertakes more complicated procedures for patients from all over the region, while there are also several private hospitals.
If you're on a limited budget you can buy a 4-bedroom apartment in Valencia for only €113,000. Further south in the community of Valencia, a 3-bedroom house with a shared pool in the town of Pedreguer will cost you €305,000.
Things to remember when moving to Spain with a family
Once you have decided to move to Spain you should make sure you understand all the requirements to ensure relocation goes smoothly.
Residency
Once you arrive in Spain you will need to apply for permanent residency (TIE – tarjeta de identidad de extranjeros).
Obtaining a TIE can take 2-3 months, as it can be difficult to get an appointment at your local foreigner's office. We recommend you use the services of a gestor to speed up the process.
Bank account
You should open a Spanish bank account as soon as possible to ensure you can pay utility bills. Some banks will require the TIE card, and some will just accept your passport if you can prove you have applied for your TIE.
You will also need an NIE number, which is similar to a UK national insurance number and is used for many things from paying taxes to identification when you set up the Internet or a mobile phone contract.
If you're looking for the best places in Spain for young families contact us. At iad Overseas we can help you find your perfect home in Spain and guide you on how to set up a family in Spain.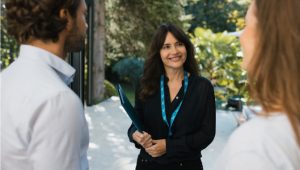 Want to buy abroad?
Tell us about your project, our specialized agents* will guide you!