Spain is a country of vast contrasts. It has something for everyone, whether you're setting up a family, retiring, or working remotely (if your employer allows it). If you can´t decide where to settle in Spain, this article will give you some ideas on the best places to live according to your passions.
Whether you enjoy days at the beach, walking in the mountains or exploring historic cities, you're sure to find your dream location in Spain.
Discover the beautiful Spanish countryside
With miles of wide open spaces to explore, Spain is a diverse country full of national parks, mountains and nature. The sheer size of the country means that it offers a variety of climates and scenery, from the greenery of the north to the dry, arid landscapes of the far south.
Trek Spain's National Parks
If you like nothing better than hiking through the countryside with a backpack and a picnic, then the Huesca region at the foot of the Pyrenees is perfect for you. Filled with mountain scenery, stunning waterfalls and miles of hiking trails, this area is ideal for nature lovers.
In the central Pyrenees, the Aigüestortes i Estany de Sant Maurici national park is full of lakes, streams, and waterfalls. If you'd prefer to swim in the refreshing lake waters rather than the sea (and want to ski in winter), then this region is perfect and a true paradise for lovers of the great outdoors.
At the other end of the country is Doñana National Park in Andalusia. This area offers the best of both worlds – wilderness and the beach. You can enjoy the wildlife, wetlands, and beaches.
Tee off at one of Spain's many golf courses
Spain is renowned as a world-class golf destination, so if you want to live close to a golf course head for Marbella on the Costa del Sol or south Andalucia. This region is one of the best areas to play golf in Europe and the many days of sunshine allow for a game most of the year.
You'll also find other golf courses on the Costa Blanca and Costa Brava, some inland and some overlooking the sea.
Do you love horse riding?
Spain's history is linked with the equine world and horse riding has always been a popular pastime. If horses are your passion, then Andalucia is the place to settle. It's perfect for trotting through the amazing countryside or cantering along the beach. This region is full of places where you can enjoy riding.
If you own a horse, then buying a property with land and stables is much easier (and cheaper) than in the UK and you'll have plenty of choices throughout Spain.
Take part in your favourite sports in Spain
Spain is full of the opportunity to play or watch sports because of its warm climate and many indoor and outdoor facilities.
Spain for football fans
One of the most common sports in Spain is football. If you want to follow one of the big teams living near Madrid, Barcelona or Seville is a great option.
If you choose to live in an inland region anywhere in Spain you'll find there's usually a football club for kids and young adults. This is often indoor football, known as 'football sala', as grass football tends to be played in the bigger towns.
Ski the slopes of Spain
Spain has several ski resorts that you can visit for a day if you live nearby. Many Spanish families and ex-pats do this in the winter – you can leave early, spend the day on the slopes and be back home in the evening.
The main skiing regions in Spain are the Pyrenees and the Sierra Nevada. You'll also find skiing resorts near Madrid, in the north in Galicia and Cantabria. If you choose to live on the northern coast, then Teruel is a popular choice for skiers.
Learn to surf
Where are the best surf spots in Spain? If you love to ride the waves or want to learn to surf, the further south you go the better. The point where the Mediterranean Sea meets the Atlantic just before Portugal is Huelva. This is the ideal place to catch the waves and watch the sunset. Another popular choice for surfers is the beaches of Cádiz.
You'll also find spots to surf as you head north along the coast towards the Costa del Sol and the Costa Tropical, but only on days when the wind is up and the conditions are right.
If you're thinking about living in the north of Spain and want to surf the Bay of Biscay, Cantabria, Galicia and Asturias all offer some serious Atlantic waves, but the water will be decidedly colder than the Mediterranean.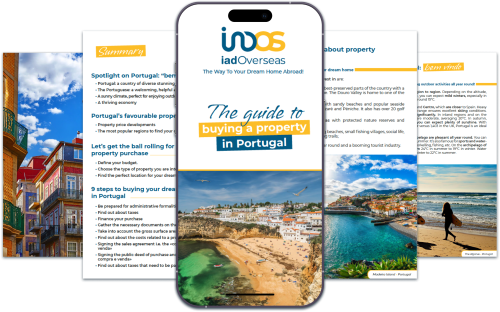 All you need to know
Receive free guides and advices from our experts delivered straight to your inbox.
Get the guide
Water sports for everyone
From fishing to sailing and paddleboarding, Spain is full of water sports for all levels. You can enjoy the thrill of a ride on a jet ski along the Mediterranean coast or dive to the depths of the sea and discover a fascinating underwater world.
Where are the best places for wind sports in Spain?
If you want to make the most of the windy conditions, then buying a property in the Costa de la Luz is a great choice. Stretching from the non-touristy town of Tarifa down to the edge of Portugal you'll find plenty of places to windsurf, kitesurf and paddleboard. 
The beaches in this region are stunning too, with miles of fine golden sand, although you'll need to be prepared for the wind!
Skiing on the water
If you're a thrill-seeker, then jet-skiing on the Mediterranean is the way to find the hidden coves that can't be accessed from the land. You'll find jet-ski hire all along the coast, especially at popular resorts such as Fuengirola, Denia, and even Barcelona.
The Mediterranean coast is also a great place for water skiing and a fabulous way to view this coastline from another angle.
Snorkelling and scuba diving in Spain
The calm waters of the Costa del Sol are a popular scuba diving region and Malaga makes a great place to live if you're looking for a diving destination. This region is also perfect for snorkelling, as is the Costa Blanca, further up the coast.
If you enjoy truly unique adventures, base your search for a home around Cartagena in Murcia, where over 50 shipwrecks lie on the ocean floor.
The culture of Spain's cities
Spain is full of history and culture. If this interests you, then a city centre or the outskirts will be the ideal place to make your home. The obvious choice is Madrid, with the Prado art gallery, baroque Royal Palace, iconic Plaza Mayor (main square) and its theatres and museums.
Another city where you can indulge your cultural passions is Barcelona, which is famous for the works of Gaudi. Valencia and Seville are also remarkable for their impressive architecture as is Toledo, home to the spectacular Gothic Alcazar cathedral.
The gastronomy of Spain
Where better to dine on fresh seafood, snack on tapas and treat yourself to churros (long doughnuts) dipped in hot chocolate than Spain? If you're a healthy eating fan and want to enjoy the delicious Mediterranean diet, then Spain is perfect for you. But where should you move to so you can partake in your favourite dishes regularly?
Tapas and pintxos
If you like to sample lots of different tastes, these delicious snacks will tempt you. Tapas are served all over Spain. Madrid is especially popular for its tapas bars where the tradition is to have one tapa and a drink in several bars. You can choose from olives, tortilla (Spanish omelette), calamari (squid) and prawns in any tapas bar, along with patatas bravas from Madrid, goats cheese from Asturias and Padron peppers from Galicia. These are only a few of the many tapas on a Spanish menu. Warning – don´t over-order as they can be very filling.
Pintxos originate from the north of Spain and they are a different kind of tapa skewered onto bread. If you move to La Rioja or the Basque regions, you'll be eating pintxos often.
Traditional Spanish dishes
Set up a home anywhere in the Valencia region if you love the traditional dish of freshly cooked paella. This was originally a peasant dish for the workers and is now a speciality of this area.
Many bars serve bread topped with olive oil and tomato for a mid-morning snack. This simple food originates from Catalonia and was a way to use up the previous day's bread.
If you enjoy a hearty stew, then Cordoba is the place to live. Rabo de toro is a rich beef stew, that was eaten after bullfights in the past.
A taste of Spanish wine*
*Alcohol abuse is bad for your health, please consume in moderation.
Spain is famous for its wine and much of the country is covered with vineyards. Whilst many winemakers produce wine in bulk, you'll find several smaller 'bodegas' where you can purchase local wine very cheaply. Many allow you to test before you buy – which can be a fun activity!
Many white wines come from the middle and north of Spain, with the Basque Country and Castilla y León. One of the most popular and tasty wines from Castilla y León is verdejo – if you see this on the bottle you know it's going to taste good.
Spanish red wines come from all over Spain, with popular regions being Castilla la Mancha south of Madrid, Extremadura on the border of Portugal and Rioja and Navarra in the north. The Alicante and Valencia regions on the Costa Blanca are also impressive wine producers – take a wander through any of the valleys here and you'll see row upon row of vines.
Cava is Spain's alternative to champagne (and much cheaper) and is mostly produced in  Catalonia. Cava is perfect for celebrating any occasion, especially your move to Spain!
When deciding where to settle in Spain, consider an area that allows you to do the things you love.