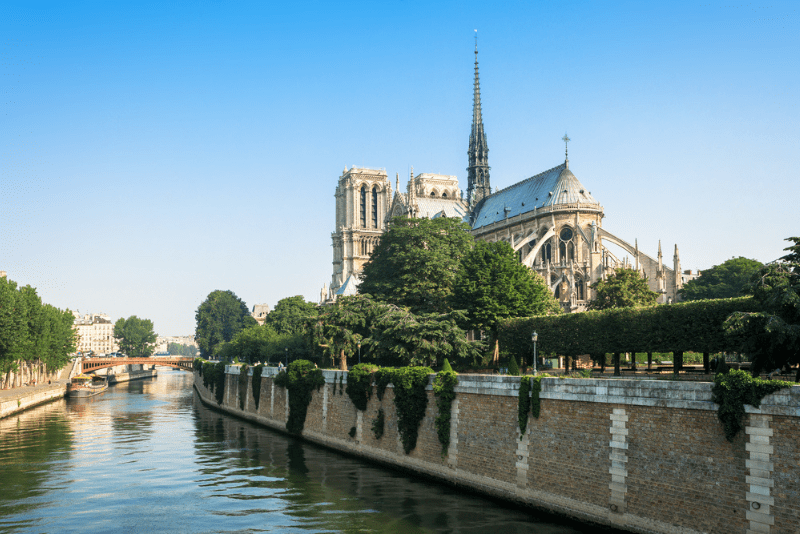 Are you considering investing in a property in Paris, either to rent out or as a family home? This article looks at the best Parisian neighbourhoods to invest in, whether you
want to make an income or are researching where to live in Paris as an ex-pat and make an eventual profit on your property.
What's the property market like in Paris?
The main types of property for sale in Paris are apartments. Prices dropped -0.8% between 2021 and 2022, which is good news if you want to buy property in Paris. The FNAIM (Fédération Nationale de l'Immobilier) predicts a 5% decrease in properties for sale in Paris, making now a good time to invest in property.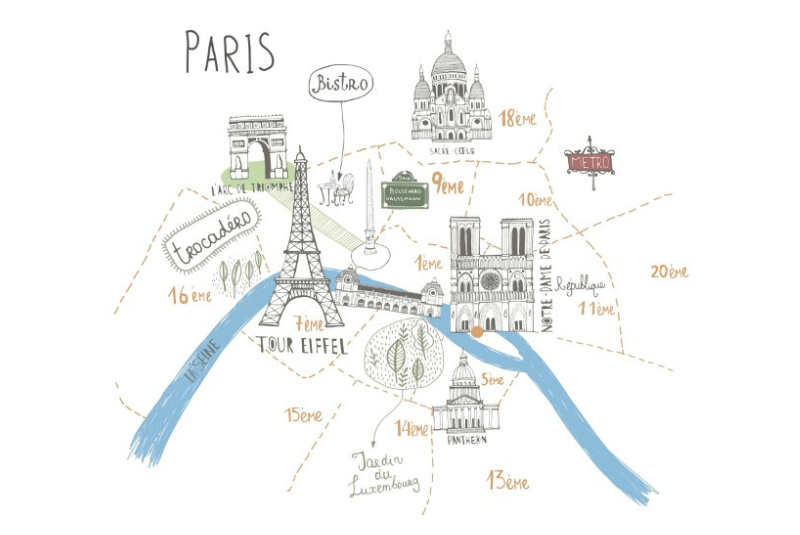 Paris is split into several areas known as arrondissements. The inner city is arrondissement 1 and the numbers continue through to the 20th arrondissement on the outskirts. Each arrondissement has its personality and can be almost like a village or town within the city.
When searching for specific areas of Paris on our website the last two digits of the postcode is the arrondissement, for example, 75001 is the first.
Space is at a premium in Paris. The average price per square metre for an apartment in Paris is €10,203. Compared to the second largest city in France, Marseille, which is €3,279 per m2.
The 3 key steps to investing in Paris
1. What's your goal?
When buying property in Paris as a foreigner, it's essential to have a clear objective. Do you want to make the maximum income from a long-term rental property with a tenant, rent your property out as a holiday apartment or use the apartment occasionally for trips to Paris?
If you plan to rent, you should be aware of the legalities of renting out a property and what rights tenants have in France.
There is a rent control system in Paris (l'encadrement des loyers) that only allows landlords to increase the rent by a certain amount when the tenancy changes. This depends on several conditions, including the location of the property, comparable properties the quality of the building and its facilities (e.g. a lift). For current information on rent increases in Paris visit this link.
2. Define your budget
When buying in Paris you should be aware of the costs of buying a property in France. When working out your budget, you should take into account:
The deposit (approximately 10% of the purchase price) ;
Whether you need a mortgage or have the cash available ;
Solicitor and notary fees ;
Agency fees and whether they are included in the sale price ;
Property tax, including capital gains tax.
3. Work out the return on your investment
When you buy property in Paris, France, you have to be sure you will make money on your investment. This may take a while, depending on the property price and the type of rental you decide on. Think of this as a long-term investment as you're unlikely to make a quick profit when buying property in Paris. You should also take into account that the value of the property may go up over a period of years, which makes selling in the future an attractive option.
4. Decide on the location
Which is the best arrondissement to live in Paris? It depends on your needs and wants. Each of the arrondissements of Paris has its advantages. For example, if you plan to rent out to executives or rent an apartment out as a holiday property, you may have more success letting out a property near the centre of Paris. Conversely, some of the best neighbourhoods for families in Paris are on the outskirts.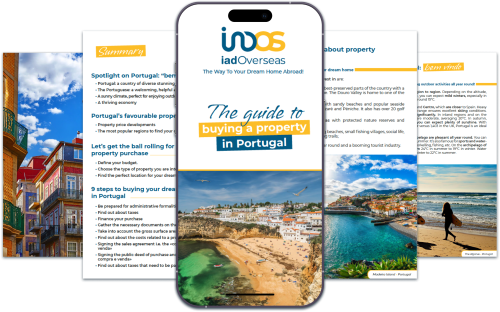 All you need to know
Receive free guides and advice from our experts delivered straight to your inbox.
Get the guide
Where to invest in Paris – long-term or tourist rental?
These prices show the difference between what you can get for your money when looking at areas in Paris to buy an investment property. It is essential to research the area and each arrondissement in Paris and have an idea of the type of people you want to rent to.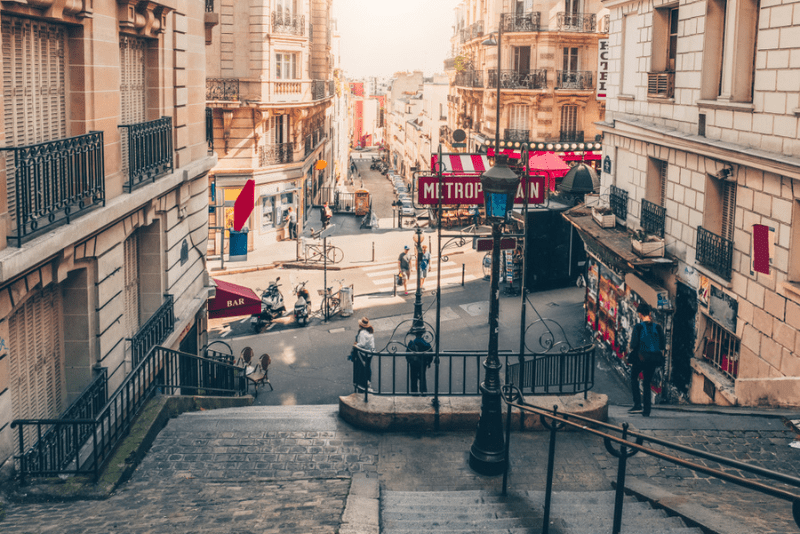 Tourist rentals
The 18th arrondissement - the artists' neighbourhood
Montmartre, in the 18th arrondissement is full of quaint streets and bistros and has a charming feel to it. This makes it an ideal area to rent out a property to visitors to Paris who want an authentic taste of the city. Artists such as Van Gogh, Picasso and Dali have all lived here, a great selling point when advertising your property. A 3-bedroom apartment in Montmartre with a terrace currently costs €545,000. This area is also known as one of the most romantic neighbourhoods in Paris – making getaways for couples another target market.
For example, a rental for a two-bedroom flat in the 18th arrondissement rents for between 150 and 300 euros per night. This district is therefore a profitable location for renting to tourists.
The 7th arrondissement - in the heart of Paris
Another area that is good for tourist rentals is the 7th arrondissement since it is close to all the major tourist attractions such as the Eiffel Tower, the River Seine and the Champs de Mars. This is one of the rich neighbourhoods in Paris, known for its great selection of restaurants and markets, where you will be able to charge a premium for rentals. On average, a 2-bedroom apartment in the 7th arrondissement rents out for between €200-€300 per night, making this a profitable location to rent to tourists. Property for sale in Paris in the 7th arrondissement is at the luxury end of the market, with a 2-bedroom apartment costing €845,000, making this one of the most expensive Paris neighbourhoods.  
Long-term rentals
Student rentals
Another market you could target is students in Paris. Whilst you may not be able to charge a high rent, the property prices are more affordable in areas where students live. Common arrondissements popular with young people considering where to live in Paris as a student are:
5th (the Latin Quarter) – One of the oldest parts of Paris
10th (St. Laurent) – A residential area
11th (Popincourt) – One of the liveliest areas of Paris, especially for partying students
20th (Belleville) – A mix of international cultures
These areas are also considered some of the best neighbourhoods to live in Paris for ex-pats and young professionals living and working in Paris. As well as being more affordable than other areas of Paris, each is culturally rich, offers a wide café social scene, and is the perfect opportunity to integrate into the Parisian lifestyle.
The 8th arrondissement - perfect for family life
When buying as a long-term investment to rent out, research on the best place to live in Paris for families. Expat families with children will want easy access to transport, shops and things to do and may be looking in this area. You may find buying a property near an international school is a good idea as these areas are likely to attract affluent families. The 8th arrondissement on the banks of the Seine is a popular choice for high-income families due to its location near the Champs-Élysées and many cultural attractions. Here, a luxury 2-bedroom apartment costs €552,000.
The 17th arrondissement - the real side of Paris
Another suitable location for where to live in Paris with a family is the 17th arrondissement, with its narrow streets and genuine Parisian feel. This area begins at the Arc de Triomphe, but the other side is less grand and more family-orientated with parks, cycle paths and plenty of bars and restaurants. An elegant 3-bedroom apartment sells for approximately €600,000 in this location.
Temporary home
If you are buying a property in Paris to use occasionally as a holiday home Paris you'll be searching for the best district to live in Paris. You might be looking for a base where you can work remotely for a few months of the year and enjoy the benefits of living in this romantic city. If you plan to do this, you should check the visa requirements as Brexit will only allow you to stay in France for 90 in 180 days as a temporary resident.
Your budget will dictate the size of the property and location but remember you could also rent out the property as a holiday let when you're not using it, which will generate income. This will avoid the property from standing empty and also bring you valuable rental income.
Our iad Overseas consultants can help you with the rental management of your Paris property.
When doing your research, you should also consider whether the property will be easy to resell as the location is always a major factor when selling.
Whether you're searching for luxury property for sale in Paris to rent as a high-end holiday rental or to executives, or looking for a cheaper property as a long-term rental, we can advise you on your property purchase in Paris. We can assist you in choosing the best place to live in Paris and ensure that you make a profit on your property long-term. Whatever the reason, iad Overseas has a vast selection of properties in the best areas to live in Paris.
3 key things to remember :
Paris is a diverse city with many different sectors.
Rental properties are suitable as holiday lets or for long-term tenants.
Paris has many attractive landmarks which you can use as selling points to attract visitors.