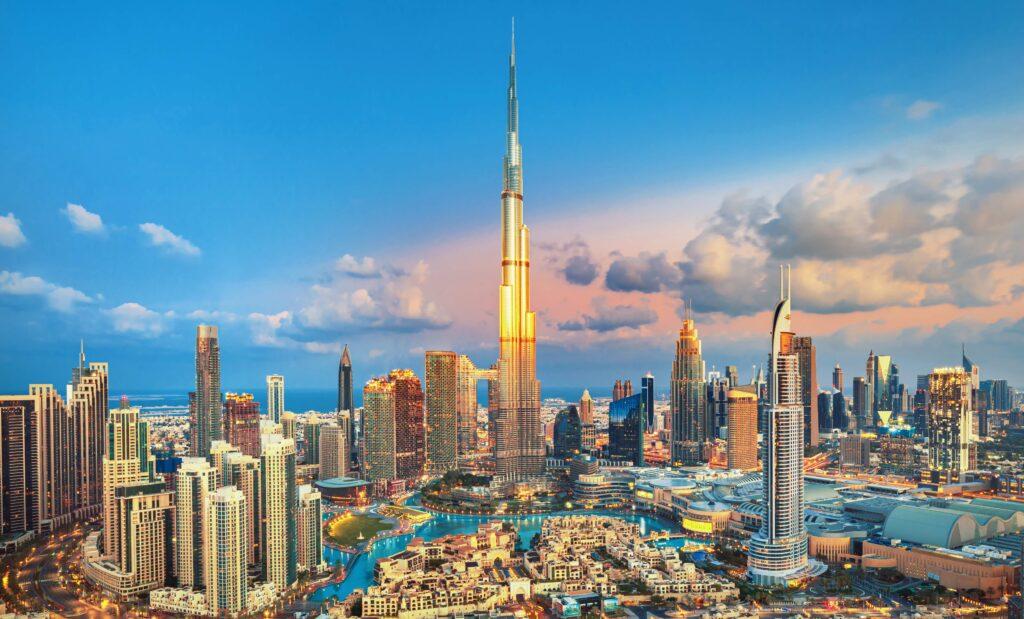 Are you dreaming of investing in Dubai? This city is like no other in the United Arab Emirates! It's probably because of its incredible features – one of the world's most stunning and prosperous cities – that this city attracts more and more buyers.
Boasting impressive sites and futuristic architecture, its booming economy has everything to appeal to real estate investors. In this article, we take an in-depth look at Dubai's different neighborhoods, so you can make an informed decision about your next Dubai real estate investment.
Benefits of investing in Dubai real estate
The United Arab Emirates (UAE) is a destination of choice for foreign investors looking to invest in real estate. Dubai is the largest and best-known city in the Persian Gulf. It offers foreign investors a variety of neighborhoods where they can find properties to suit their aspirations.
Living in Dubai offers foreign investors a number of advantages that make the « city of a thousand and one nights » an attractive destination for property investment.
These include:
1 - State-of-the-art infrastructure
Emerging technologies such as 3D printing, AI, robotics, autonomous vehicles, 5G networks, IoT and blockchain are an integral part of the UAE's ambitious vision for the future.
Dubai is connected to the world and to other cities in the UAE by a network of expressways. These roads are used to facilitate travel between the emirate's airports and seaports and other parts of the country, as well as neighboring countries (the Sultanate of Oman to the east, the emirates of Sharjah to the north and Abu Dhabi to the south).
Projects such as Hyperloop, Etihad Rail, autonomous cabs and Sky Pods make the city a pioneer in transport and sustainable development.
In addition, the city boasts a wide range of amenities including shopping malls, high-end hotels, gourmet restaurants and much more.
2 - A fast-growing economy
Dubai ranks among the world's top ten financial centers according to the Global Financial Centres Index. The Dubai International Financial Centre (DIFC) will achieve record growth in 2022.
3 - Cosmopolitan population
Dubai's population is very diverse. Many are expatriates who have come from all over the world to work, live a new life as retirees or expatriates.
This creates a constant demand for local residential, hotel and commercial real estate.
4 - A reassuring level of security
Dubai is renowned for its high level of security, surpassing that of many European and French cities. Robberies are virtually non-existent in the UAE, and the government has taken measures to ensure the safety of its citizens and investors, making Dubai one of the safest cities in the world.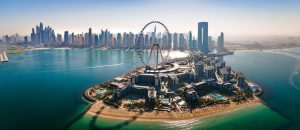 The real estate market in Dubai
Dubai's most attractive districts
Downtown Dubaï
Downtown Dubai is probably one of the city's most famous and popular districts. It is well known for its spectacular skyscrapers, including the Burj Khalifa, the world's tallest building. The area also offers a variety of activities such as trendy restaurants, high-end shopping (Dubai Mall) and a wide choice of entertainment such as the Burj Khalifa musical fountain.
Property prices in Downtown Dubai can be quite high, but there are still some interesting opportunities for those looking to invest in real estate in this area. The average price found in Downtown Dubai is €3664.05/m2.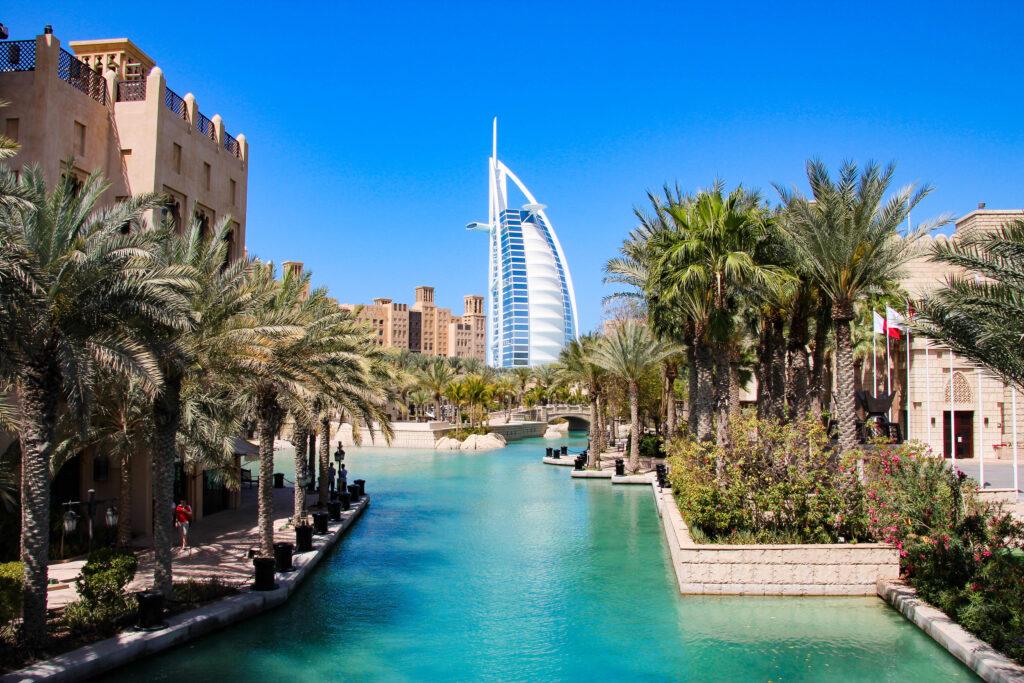 Al Barsha
Al Barsha is another Dubai district that attracts many international property buyers due to its excellent value for money. Al Barsha, located in the new city to the south of Dubai, is a place of surprises, with its abundance of charming hotels, quaint boutiques and traditional restaurants. It is renowned for being home to the Mall of the Emirates, a shopping mall housing a multitude of high-end stores and the famous indoor ski slope, close to several five-star hotels.
This area is home to some of the most sought-after residential projects, such as Al Barsha South, Al Barsha West and Al Barsha Heights (Tecom). These residential complexes offer a variety of homes to suit the diverse needs of buyers – spacious apartments, modern villas or traditional houses. Many expatriate families choose this area as their home.
Al Barsha is a popular neighborhood, making it an excellent location if you want to be close to local tourist attractions while still having access to everything your family needs on a daily basis without having to drive too far.
Jumeirah Beach Residence (JBR): a seaside neighborhood
Situated opposite Dubai Marina, this location is perfect for families due to its proximity to the sea.
Jumeirah Beach Residence (JBR) is undoubtedly one of the most popular places to stay in Dubai, offering not only an idyllic setting but also an impressive variety of entertainment options, including trendy bars, lively nightclubs and beaches. This luxurious complex also boasts a wide choice of high-end boutiques where you can find your shopping bliss!
From a real estate point of view, JBR is just behind Downtown Dubai in terms of rental demand, thanks to the large number of hotels located here. With prices ranging from a few hundred thousand US dollars to over a million US dollars, JBR offers a variety of accommodation options to suit all budgets.
Palm Jumeirah
Palm Jumeirah is an artificial peninsula built off the Arabian coast, consisting mainly of luxury residential buildings bordering a magnificent 11 km-long private beach.
Palm Jumeirah is renowned for its exceptional quality of life, thanks to its luxurious facilities: private sports clubs, renowned international gourmet restaurants and exclusive shopping malls are an integral part of the local lifestyle. Prices vary considerably depending on the type of apartment purchased – some units can fetch US$5 million or more!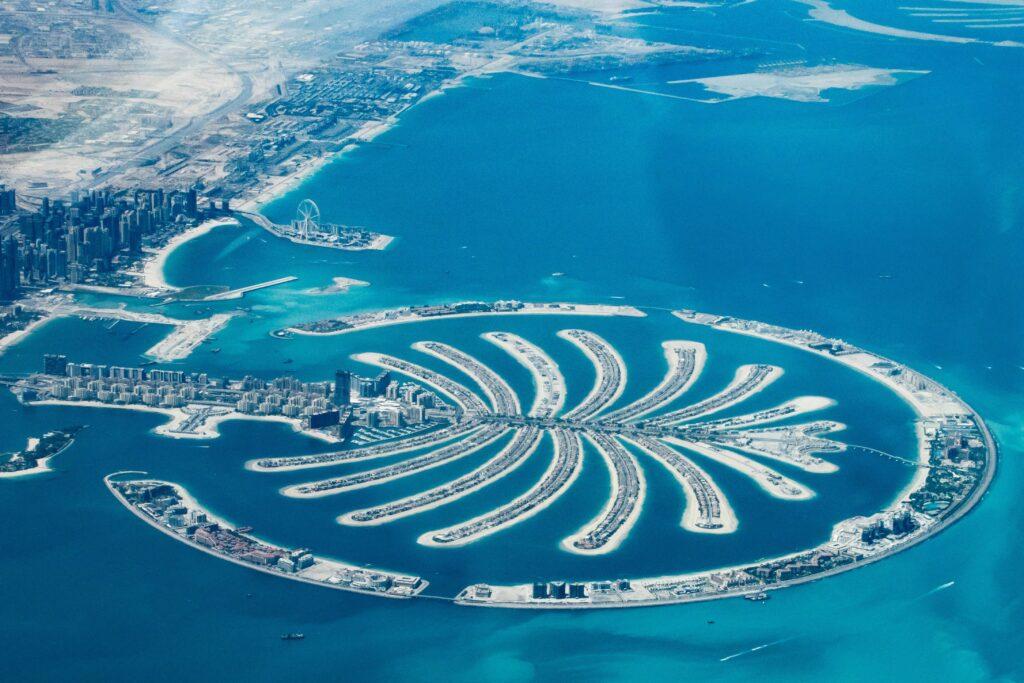 Palm Dubai
Jumeirah Village Circle (JVC), a family-friendly neighborhood
Bluewaters, Dubai's newest district
Dubai's newest landmark, this district was created in 2018. Structured similarly to the Palm Jumeirah district, on the water, it is home to the world's highest Ferris wheel, referred to as Ain Dubai. At 210 m above sea level, it offers a breathtaking view of Dubai.
Dubaï Creek Harbour
The Dubai Creek harbor district is now a thriving area, with the long-awaited Dubai Creek Tower. This is set to become the world's tallest structure, surpassing the Burj Khalifa. The Port of Dubai Creek lies between downtown Dubai and Business Bay, close to the city's historic sites and modern centers.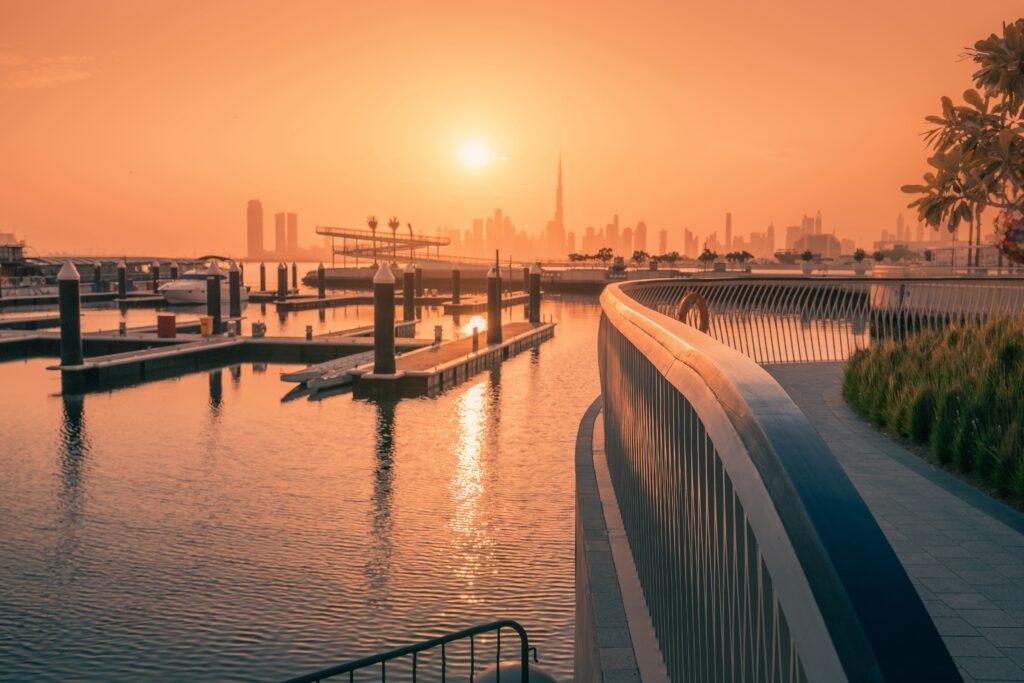 Dubai Creek Harbour
Dubaï Marina
Dubai Marina is a thriving business center with stunning skyscrapers, making it a popular accommodation choice for business travelers and short-term visitors.
Dubai Marina is an attractive mid-range option. It has a well-established residential community and remains a popular area for expatriates. Comprising a mix of apartments, townhouses, restaurants and stores, prices remain reasonable compared to more luxurious locations such as the Palm or Downtown.
The expatriate quarter: Arabian Ranches
Built around the 18-hole Arabian Ranches golf course, this family-friendly neighborhood is just 25 minutes from Dubai International Airport and 36 minutes from Palm Jumeirah or Dubai Marina. Away from the skyscrapers, you'll find plenty of green spaces and amenities: shopping centers, pharmacies, hairdressers, restaurants and the Jumeirah English Speaking School.
Dubai, profitable real estate investments
The average cost of a square meter of living space in Dubai in 2022 is €3,506.71. The range of this figure, which goes from €2,007.69 to €5,993.85, fluctuates according to the time of year. It is linked to the exchange rate of the AED currency. (United Arab Emirates Dirham).
A highly favorable tax environment
Investing in real estate in Dubai means total exemption from :
Property tax.
Rental income.
Capital gains.
Currently, the local government offers companies full tax exemption on all their business activities. On January 31, 2022, the United Arab Emirates introduced a federal taxation system that will apply to all companies and commercial activities operating in any of the seven emirates.
From June 2023, a corporate income tax of 9% will apply.
Attractive property prices
Property prices in Dubai are very competitive compared to European or American cities in terms of quality of life and available urban infrastructure. You can find a wide choice of modern properties on offer at affordable rates, which can be purchased with ease thanks to the country's well-developed financial system.
How to choose the right neighborhood in Dubai for expatriation?
When looking to invest in real estate in Dubai, there are a number of factors to consider in order to find the neighborhood that best suits your budget and needs. Here are some tips for choosing the right neighborhood:
1. Define your budget
The price of a property can vary considerably depending on its location; for example, properties near the city center generally cost more than those on the outskirts. So it's important to determine your budget before you start looking for a home, so that you can target neighborhoods that meet the financial criteria you need.
2. Evaluate the quality of life in your neighborhood
The quality and accessibility of public services are important factors when it comes to choosing a place to invest in real estate. So make sure the neighborhood offers everything you, your family or your spouse need on a daily basis.
3. Proximity to amenities
If you're looking for a convenient place to live or work, make sure it's well located to essential amenities such as stores, restaurants or schools. Also check whether the neighborhood offers easy, affordable public transport to other residential areas of the city, such as Dubai Marina, Downtown Dubai, Al Barsha or Jumeirah Village Circle.
Call on a local property consultant
Dubai offers foreign investors an exceptional variety of affordable and luxurious real estate options to suit your budget and personal preferences. By taking into account important factors such as your budget, the local quality of life and the tax advantages offered by each residential zone, you can easily find an ideal location for your project. iad Overseas real estate professionals and advisors will be happy to share their knowledge and help you take advantage of the best real estate opportunities available.
Contact an iad Overseas consultant*, a specialist in international real estate, to find « the place to be » in Dubai!
3 key points to remember about Dubai
Dubai's real estate industry is booming.
Very competitive property prices compared with other world capitals.
Exemption from property tax, rental income tax and capital gains tax.