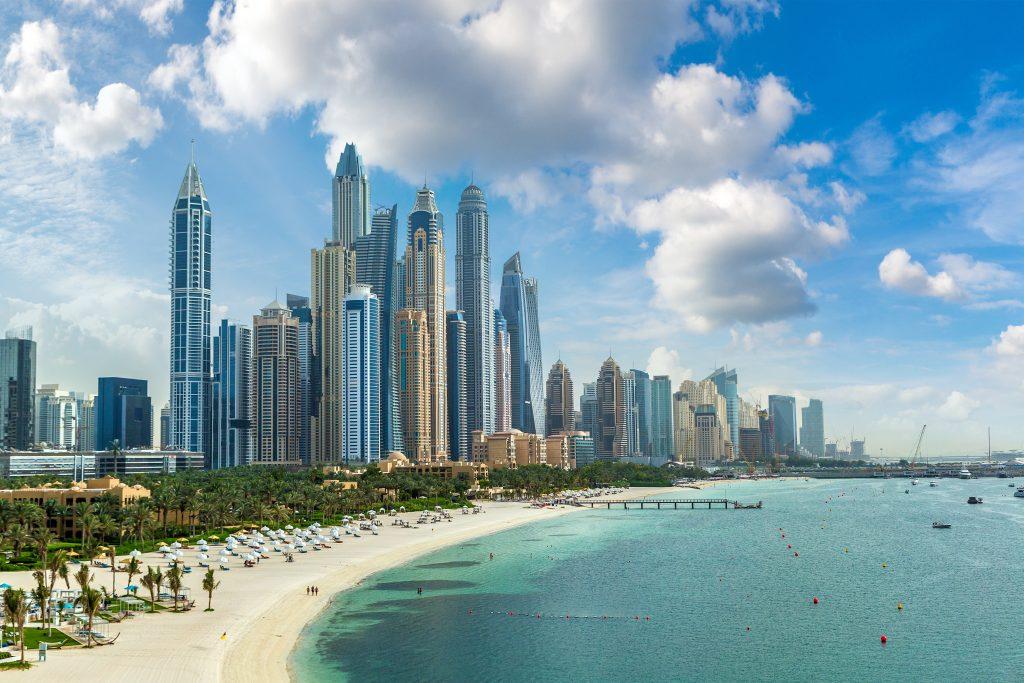 Living in Dubai is an exciting experience, and it's no surprise that many people from different parts of the world are drawn to the city's vibrant atmosphere. Thanks to its excellent infrastructure, modern lifestyle and dynamic atmosphere, Dubai is an attractive destination for adventurers and career boosters alike. Cost of living, customs, work and culture, let's have a look into the magic of this destination.
Dubai: the destination for excellence
Dubai is a popular destination for both leisure and business. It offers an excellent quality of life, safety and security, a pleasant climate outside the summer months, a diversified job market, modern infrastructure, a tax-free or low-tax environment, a key air hub and a strategic location.
As a result, the region has many assets at its disposal, and is taking steps to attract more and more residents while strengthening its economy.
Shopping and tourism
The city of Dubai offers very competitive rates in terms of activities. Whether it's shopping, sightseeing or outdoor adventure, there are always affordable ways to explore the region.
Dubai also boasts another facet of its reputation: its unusual activities in the kingdom of excess. Indeed, the Persian Gulf city offers the chance to experience the unimaginable. Here's an overview of the city's most opulent offerings.
1. Skiing in Dubai
Dubai ski allows you to ski in scorching temperatures of 40°C ! Believe it or not, it's possible in Dubai! The city is home to the only indoor ski resort in the Middle East, and is equipped with five slopes, the longest measuring 400 meters. With real snow and an indoor temperature of -2°, you can experience the feeling of a mountain getaway, whatever the heat outside.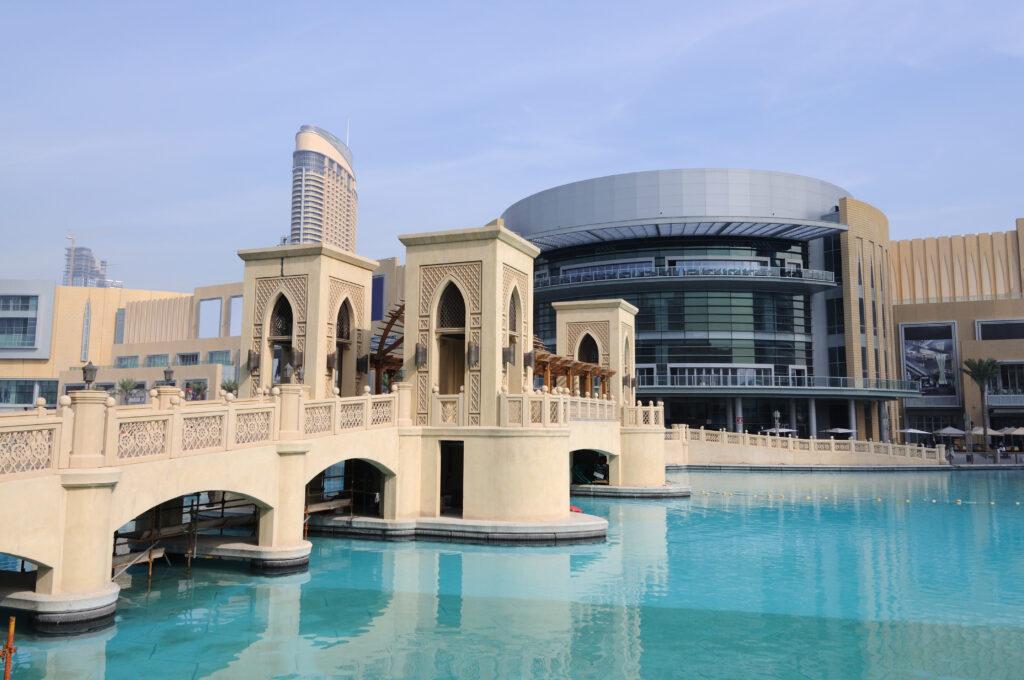 Dubai mall, the temple of shopping in Dubai
2. Dubai mall, the temple of shopping in Dubai
The shopping temple « Dubai Mall » is a veritable city within the city, with over 1,200 stores, dozens of bars and restaurants, an aquarium, a 22-screen cinema, an ice rink and even a hotel.
3. Burj Al Arab Jumeirah: a global symbol of Arabian luxury
Set on its own man-made island, this luxury hotel boasts iconic sail-shaped architecture and is the only hotel of its kind to boast seven stars. Its helipad, grandiose materials and vast suites, combined with its panoramic restaurant, make it the perfect embodiment of Dubai's extravagant opulence.
4. Burj Khalifa, an endless tower with spectacular fountains
The emirate's extravagance includes the world's tallest tower, at 828 metres. From its summit, on a clear day, you can enjoy a breathtaking panorama of the emirate, with views stretching for up to 95 kilometers in all directions. It's impossible not to mention Dubai without its fountains. Every half-hour at sunset, the Burj Khalifa tower is the setting for a spectacular spectacle of music, water and light.
5. Palm Jumeirah
Described as the eighth wonder of the world, this palm-shaped archipelago of artificial islands is renowned for its luxury resorts such as Atlantis, The Palm, FIVE Palm Jumeirah Hotel, Jumeirah Zabeel Saray, One&Only The Palm and many more. Gourmets can savour the delights of Nobu and the 101 Dining Lounge, while The Pointe, located at the tip of the island, offers 80 other restaurants, lounges and attractions.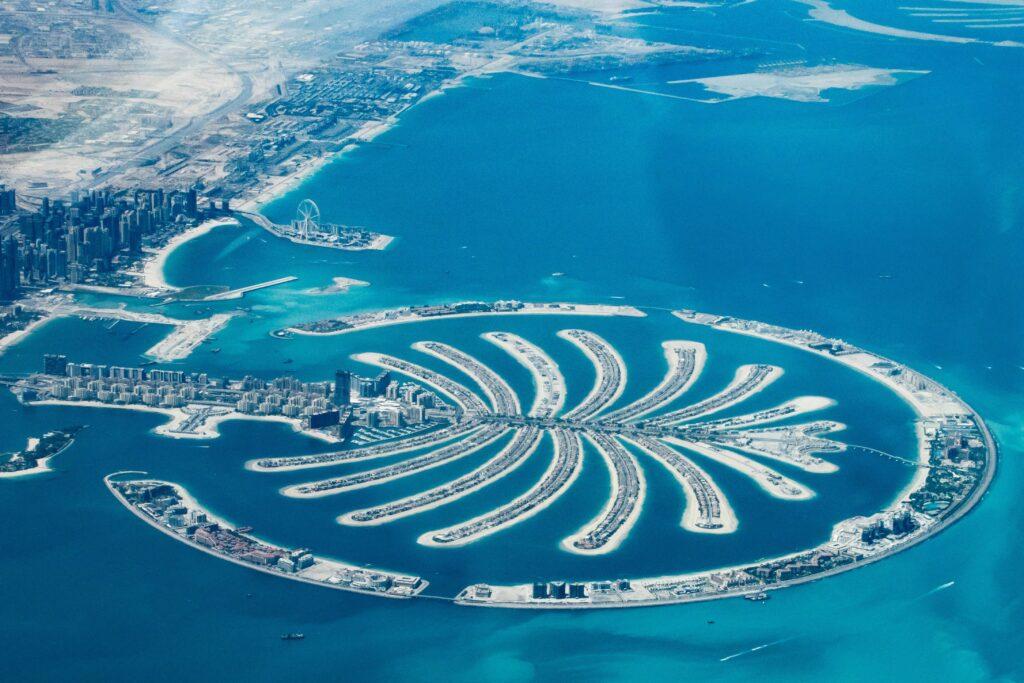 Palm Jumeirah in Dubaï
6. Desert road trip in 4x4
Dubai was built in the desert. The city's pharaonic development has removed sand dunes by the tens of thousands of tons; and to see the real desert, you have to leave the confines of the City of Gold and go a few kilometers further afield. The thrill of sand surfing just 45 minutes from Dubai!
7. Dubai's gastronomy: the cult of excellence
Dubai is fast becoming a gourmet city, attracting more and more big names in French and international cuisine. Britain's Gordon Ramsay, Japanese culinary icon Nobu Matsuhisa, France's Pierre Gagnaire and young Breton chef Vincent Le Moal to name but a few.
The culinary offer is as rich and varied as its population. Dubai has long been a meeting point between the Persian Gulf and the Arabian Sea, attracting merchants from all over the world, notably India and the Middle East.
This influx of traders has created a unique culinary blend of their traditional dishes and local flavors. This mix has only grown stronger in cosmopolitan Dubai, where you'll find Indian, Lebanese, Thai, French, Chinese, Japanese and Italian restaurants in the same district – something for everyone!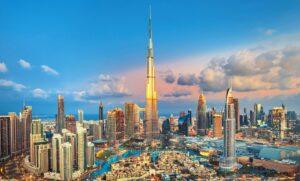 The best areas to invest in Dubai
Living in Dubai as a couple or a family?
Living as a couple in Dubai: everything you need to know
For many years, unmarried couples were not allowed to cohabit in Dubai. However, in 2020, the law was changed, allowing couples to live together as long as they demonstrate appropriate behavior. For example, no holding hands in public, no kissing. However, this law only applies to heterosexual couples.
LQGBT couples cannot live together. This law is based on traditional Emirati culture and the Muslim religion. The latter prohibit sexual relations outside marriage. This law has been revised in Dubai. Since 2020, couples can now live together in Dubai without being married.
What is the rule for same-sex couples?
In Dubai, homosexuality is severely punished, with prison sentences handed down to those who openly display their homosexual relationships. This has led same-sex couples to keep a low profile in this cosmopolitan city of over two million inhabitants.
How to behave on the streets of Dubai?
Living in Dubai has its own set of customs and habits that differ from what is commonly practiced in the West. In general, the population is quite conservative and modest. While it is permissible to live as a couple in Dubai, it is preferable to be discreet in public. Holding hands and kissing are not reprehensible, but such demonstrations may be considered shocking by the locals.
During Ramadan (end of March-end of April, the exact dates of the holy month depend on the appearance of the moon), it is important to be attentive and even more sensitive to cultural and religious beliefs. Be extra cautious in your behavior and attitude in public.
How to dress as a woman in Dubai?
In the United Arab Emirates, women traditionally wear the abaya, a long black dress covering their clothes. They often cover their heads and hair with the sheila, a black veil, often slightly transparent. Although wearing the abaya and sheila is not compulsory, many UAE women choose to do so, competing in elegance with rhinestones and pearls to decorate their outfits.
In reality, how you dress depends largely on where you are. In beach areas and tourist destinations, bikinis, mini-shorts and crop tops are generally accepted. In malls, rules on dress are posted before you enter: « shoulders and knees covered ». Administrative centers and institutional places are more fastidious, which seems logical. In fact, the same applies in many countries around the world.
Finally, visiting mosques requires stricter dress, with arms, legs and head covered.
Living in Dubai with your family
Low taxes and the ease of doing business for foreigners make it an attractive place to work and live. With its low crime rate, international schools and lower cost of living than many Western countries, the Dubai region remains an ideal place to settle with your family.
To live in Dubai, you need a visa, usually a residence or golden visa. If you have children, they will also need a valid visa to accompany you.
Reminder: The UAE « Golden Visa » is a long-term residence visa that allows foreign nationals to live, work or study in the country with certain privileges, without the need for a local sponsor (an employer who invites you to work).
Some international schools in Dubai:
Documents not to forget in your suitcase before you leave
In addition to your children's passports and visas, you'll need to include certain documents in your expatriate suitcase that may be difficult to obtain once you've settled in.
These may include birth certificates, marriage certificates, family record books, school records, medical records and medical examinations, etc. Take extra precautions and have your documents translated into English, which is the second most spoken language in Dubai after Arabic. And don't forget to digitize your documents in the cloud, so you can retrieve them from anywhere.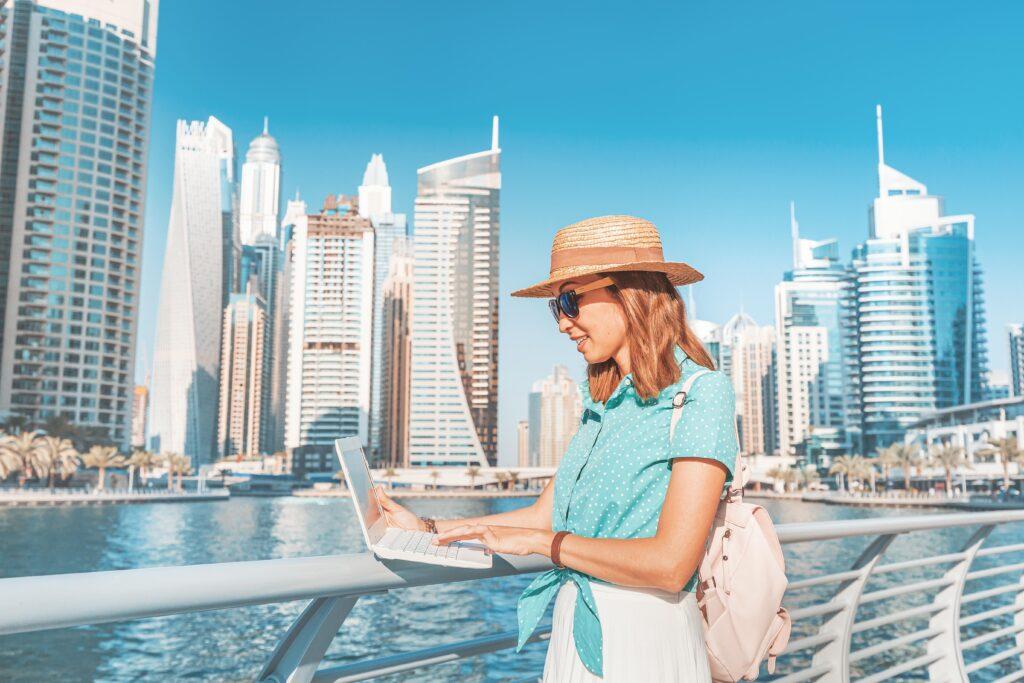 Remote working in Dubai
Find a job in Dubai: blockchain, tourism and start-ups
The Dubai economy
For several years now, Dubai has been transforming its economy away from dependence on oil. This has led to an increase in employment opportunities in the tourism, education, hospitality, luxury and retail sectors. As for new technologies, they are experiencing rapid growth (AI, blockchain, 3D printing and the Internet of Things (IoT)).
Dubai diplomas
Recognized international diplomas are generally required for employment in almost every commercial and industrial sector in the country. Most companies look for relevant work experience and a good academic record in potential candidates…
A little extra: speaking English and Arabic will enhance your profile. These two languages are the most widely spoken and therefore sought-after.
The United Arab Emirates is home to a great diversity of languages. Arabic is the official language, while native Emiratis are fluent in a dialect called Gulf Arabic. In addition, many foreign workers converse in languages such as Urdu, Hindi, Tamil, Bengali, Farsi, Pashto, Nepali, Tagalog, Malayalam and Mandarin. The former British colony also has a large English-speaking population, especially in Dubai; business is generally conducted in English.
Dubai salary
Dubai is a very cosmopolitan city and one of the most expensive in the Middle East. There is no minimum wage in Dubai, so there are plenty of opportunities. Salaries in Dubai can be as much as €5,380 a month, or 21,500 dh or AED (United Arab Emirates dirham). This is higher than in many Western countries, making Dubai an attractive destination for workers. Job opportunities are many and varied, and salaries are highly competitive. Generally speaking, the average monthly salary is estimated at €3,977/month or AED15849.01.
Staggered working hours and days
Adaptez vos plans de week-end, car le vendredi et le samedi sont les jours de week-end à Dubaï et la semaine de travail commence le dimanche.
Attractive tax system
The emirate of Dubai boasts an attractive tax system, offering no tax on income or corporate profits. This allows employees to keep their full salary, and businesses to benefit from an advantageous environment. There are no taxes to deduct from your after-tax take-home pay. On the other hand, there are other types of indirect taxes (tax on rentals, alcohol, restaurants or imported products, etc.).
No income tax
In Dubai, there is no income tax, which means that everything you earn belongs to you. Nevertheless, taxes may be added for services such as hotel stays and restaurant meals, with a 10% surcharge on your bill.
Dubai's cost of living
Whether it's petrol, restaurants or transport, the overall cost of living is lower than you might think. Faced with extravagant monuments and buildings, living in Dubai has its advantages on a daily basis.
For example, you'll find the following rates:
1 Litre of petrol costs: €1
Cappuccino: €4.90, Local beer: €5.95 for 25 cl, can of Coca Cola: €1.1, bottle of mineral water: €0.60
The price of a cab: 0.8 €/km
Price of a square meter in the city of Dubai in 2023: €3507/m2
Price of a square meter in rural Dubai in 2023: €2208/m2
Find out more about the cost of living in Dubai on this website.
Dubai, a very safe city
Dubai is a very safe city, much safer than many European and French cities. Theft is virtually non-existent in Dubai and the United Arab Emirates. It's fair to say that the Dubai government has gone to great lengths to ensure the safety of investors and residents alike, making the city a first-class safe destination. This has been validated by its presence in the world's safest cities ranking, giving those investing in real estate the assurance that their security is well taken care of. For example, it's natural to leave your car doors unlocked.
Dubai has an individual judicial system based on Islamic Sharia law, although it is considered to be very close to, if not similar to, European civil rights. However, certain unacceptable acts can be severely punished, such as sexual harassment, racial insults, etc., and indecent acts can carry sentences of up to 15 years' imprisonment.
Strict border controls are in place, and customs checks for prohibited items are carried out as in any other country… Don't take any unnecessary risks!
Dubai, a paradise for property investment
The cost of purchasing a square meter of living space in the city of Dubai is, on average, €3,506.71 in 2022 (source). This figure can vary from €2,007.69 to €5,993.85, depending on the time of year.
This phenomenon is quite simply linked to the exchange rate of the AED (United Arab Emirates Dirham) against the euro, which can change every day, causing prices in euros to rise or fall, without necessarily changing the price in local currency.
A single tax in Dubai: the DLD
Notary fees, known as DLD (Dubai Land Department), are the only tax on the purchase of property in Dubai. The fee is 4%, regardless of the value of the property (source UAE Wealth). Finally, there is no property tax in the UAE.
Other important points to remember:
No property tax in Dubai.
No tax on rental income or capital gains.
Please note: Dubai has signed an agreement with France, so French owners are taxed in Dubai and pay no tax on their Dubai property.
Investing in property in Dubai
Are you planning to live in Dubai and would like to find out more about Dubai real estate? If you compare real estate prices, particularly per square meter, in Dubai and other major cities such as Paris, London and New York, it's clear that the gap is considerable. Dubai's real estate market is attractive and full of promise. Don't overlook the help of a local professional! An iad Overseas consultant* can accompany you every step of the way and guide you through all the formalities involved in finding « THE » property of your dreams.