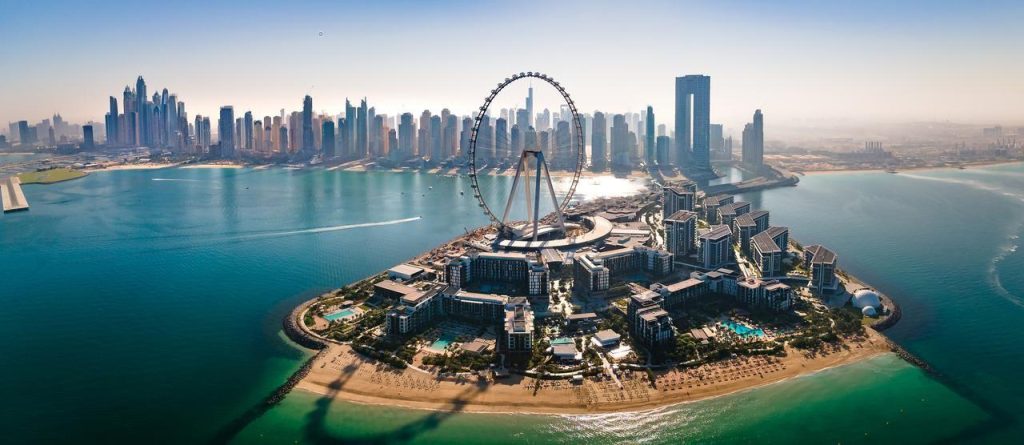 Dubai, the legendary destination of the United Arab Emirates, is now a leading global destination, not only for tourists, but also for those looking to invest in real estate. As an international financial center, Dubai offers investors a dynamic and diversified market, with the added bonus of sustained growth in recent years. This market is particularly attractive for those seeking high returns on their real estate investment.
Dubai, an economic and property hub
The United Arab Emirates (UAE), and Dubai in particular, are considered an economic and real estate hub. Investment has intensified in recent years, resulting in rising property prices.
Tax-free zones to attract investors
The United Arab Emirates has created over 30 free trade zones, all governed by the same commercial laws. Depending on the type of business and location, each free zone offers distinct advantages, but what they all have in common is a tax advantage (no income tax, no property tax, etc.) that benefits not only Dubai citizens, but also expatriates who come to work in a variety of lucrative jobs.
Here are a few free zones in the United Arab Emirates:
JAFZA, Jebel Ali Freezone: Import Export activity.
Media City / Internet City: IT/Internet/Communication/Media activity.
Jumeirah Lake Tower (DMCC, JLT): Trade of commodities, miscellaneous
RAK: Ras Al Khaimah Freezone
SAIF: Sharjah Airport Freezone
DAFZA: Dubai Airport Freezone
These incentives have encouraged a massive influx not only of investors, but also of tourists who have come to take full advantage of everything Dubai has to offer: shopping, luxury vacations, extravagant scenery or desert 4×4 rides…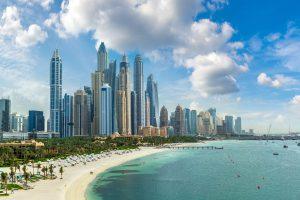 Living in Dubai, a city on the rise!
Dubai: a booming property market
The Dubai real estate market is characterized by ever-increasing demand and limited supply, meaning that prices remain stable or rise steadily.
An important part of Dubai's real estate success is due to the almost total absence of taxes on every type of real estate transaction.
How is the Dubai property market faring?
Rising prices, reflecting growing demand and favorable regulations
The Emirati Global Property Guide real estate index indicates that the sector has been growing since 2018, despite the global pandemic. House price growth is estimated at between 3% and 5%, mainly due to new real estate projects that are attracting ever more foreign investors.
According to Knight Frank Real Estate Intelligence Report 2019-2020, the average annual price growth rate over the past five years is estimated at 6%. This reflects strong demand in Dubai's real estate market, as the city offers investors a unique combination of modern, dynamic infrastructure coupled with favorable regulations to encourage foreign direct investment (FDI).
The local government has adopted several measures to support the real estate industry:
Tax exemption on new homes.
Authorization for non-resident expatriates to purchase real estate.
Facilitation of property loans for residents and non-residents.
These initiatives have helped stimulate the local real estate sector to reach its full potential.
A few examples of Dubai property prices
Prices vary greatly depending on the type of property you are looking for. For example, a small two-bedroom house on the outskirts of Dubai will cost much more than a large family villa in a more upscale residential area (Dubai Marina, Al Barari or Emirates Hills). In fact, prices vary widely from one neighborhood to another. On the Palm Jumeirah, it will be difficult to find a villa for less than 3 or 4 million euros. For an apartment, expect to pay 380,000 euros in prestigious districts such as Downtown or Dubai Marina (source Dubaï Immo).
Rents also vary widely, from inexpensive one-bedroom apartments costing around AED 40,000 a year (USD 10,800 or €10,030.93), to luxurious villas with several bedrooms and a swimming pool that can cost up to AED 1 million a year (USD 270,000 or €250,773.20).
Rental price of a downtown apartment in Dubai in 2023: €3056.83
Minimum price: €1,957.49 (AED 7,800)
Maximum price: €4,600.86 (AED 1,8333)
Price of a square meter in the countryside in Dubai in 2023: €2207.99
Minimum price: 1505.76 € (6000 AED)
Maximum price: 3226.22 € (12856 AED)
Source: cost of living in Dubai, January 2023
Dubai's real estate market is currently buoyant, offering interesting opportunities for investors. Prices continue to rise thanks to new projects and government measures.
The « Dubai Plan 2022-2030 » strategic plan continues to stimulate the local real estate sector with the ongoing construction and modernization of various major projects. Finally, prices vary widely depending on the type of property required, but remain relatively affordable compared with other international financial centers.
Dubai's booming property market
The real estate market in the United Arab Emirates, including Dubai, saw an unprecedented number of transactions in 2022. Between 2021 and 2022, property sales (by value) rose by 76.6%(1). Professionals expect this trend to continue in 2023.
Dubai's real estate market continues to attract investors from all over the world. As evidenced by the 24th edition of Dubai's Cityscape trade show, success and real estate projects are on the cards. Indeed, Dubai's real estate market is booming thanks to government initiatives such as residency permits for retirees and remote workers, visa reforms, the economic stimulus of the 2020 World Expo and the successful management of the Covid-19 pandemic.
Over 97,000 real estate transactions were recorded in Dubai last year, valued at 67.38 billion euros(2).
Just one tax in Dubai: notary fees
Notary fees, known as DLD (Dubai Land Department), are the only tax payable on the purchase of property in Dubai. The fee is 4%, regardless of the value of the property.
Other important points to remember:
No property tax in Dubai.
No tax on rental income or capital gains.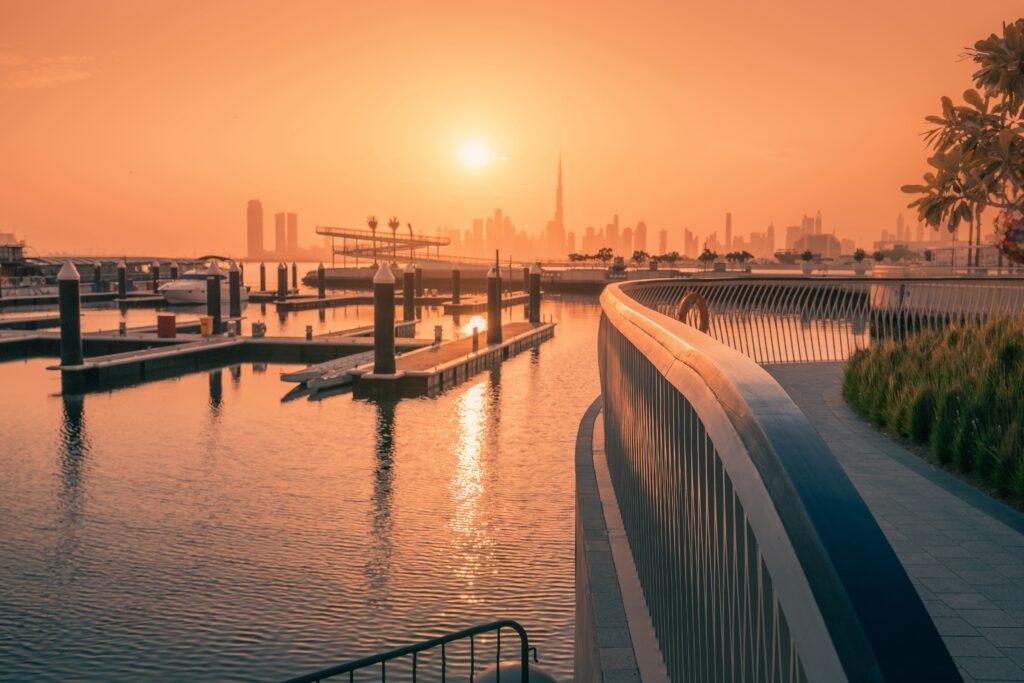 Focus on future real estate projects: Sobha 1, Hartland 2 and The Line
Construction and modernization have continued to be a major trend for several years now, notably with the implementation of the « Dubai Plan 2022-2030 » strategic plan. The latter aims to stimulate various aspects of sustainable development, including infrastructure projects such as smart roads, the ongoing construction/modernization of terminals/buildings and major projects such as the Mohammed bin Rashid Al Maktoum Solar Park.
Local players Sobha Realty and Emaar Properties are announcing several real estate projects. These include Shoba 1 and Hartland 2, worth 6.23 billion euros, which will be completed in five to eight years.
Sobha 1 and Hartland 2, projects worth tens of billions of euros
Dubai Marina will also be getting a new tower, thanks to work announced by Dubai's number 1 property developer, Emaar Properties. Among other projects, Emaar Properties built and inaugurated:
Palm Islands, Dubai Waterfront, The World and The Universe were all built by Nakheel Properties, a subsidiary of Dubai World, an investment company controlled by the government of the Emirate of Dubai, United Arab Emirates.
Currently, Hartland is a vast area of over 9 hectares, with up to 7,000 homes, including 100 luxury villas. 50% of the land is preserved as open space. The Sobha 1 development will occupy around 14 hectares and house around 2,600 homes. Enough to accommodate many foreign investors and teleworkers.
Discover our investment opportunities in Dubai with iad Overseas
Join our monthly webinars on investment opportunities in Dubai, organized by our iad Overseas advisors! Find out about the latest programs available with our partner DAMAC.
Contact us to talk to an iad Overseas consultant specialized in Dubai and to be informed of upcoming webinars!