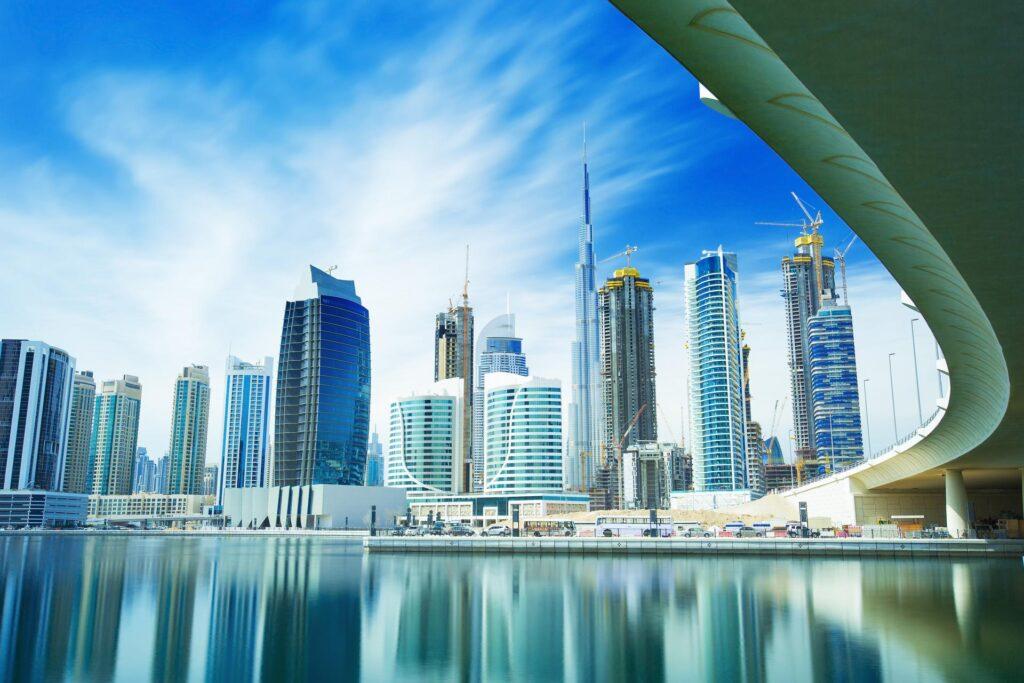 Why and how to invest in Dubai? What advantages does this unique city have over other capitals such as Paris, London and New York? Focus on the city of the future.
Why invest in property in Dubai?
Dubai's strengths: a cosmopolitan metropolis
The cultural activities, dynamic entrepreneurial sector, natural and built environment, quality of infrastructures and ethnic diversity make Dubai a metropolis full of advantages.
Dubai becoming a more open city for foreigners, this has helped to place it in the top 10 of the world's best cities, according to a study by international consultancy firm Resonance Consultancy.
One of the 5 safest cities in the world
According to the Khaleej Times, the first city of the United Arab Emirates is not only considered to be the best city in the Middle East, but it is also one of the 5 safest cities in the world, as mentioned in the « World Best Cities Report » study. It overpasses major cities such as San Francisco, Los Angeles, Madrid, Hong Kong and Sydney.
Taimur Khan, Research Director at Knight Frank, a British real estate company, highlights the advantages of Dubai, often known as the city of superlatives:
« The city is the home to some of the most spectacular buildings in the world. It is one of the top 10 international financial centers, located in one of the most economically diverse regions. Dubai offers over 200 public schools, a lifestyle and world-class amenities. And all of this, without any direct taxes… ».
Dubai's reputation has been shaped by a number of factors, in particular its impact on global trade. The city, which is the main hub of the United Arab Emirates, is also known for offering expats a high quality of life, as Khaleej Times points out:
« We can predict that Dubai continues to move up in this ranking. »
Dubai is considered a more than favorable place to invest in real estate for several reasons. Here are some of the main factors that contribute to its appeal to property investors.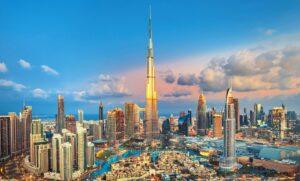 The best areas to invest in Dubai
Economic growth
Dubai has enjoyed solid, sustained economic growth for several decades. The city is a major financial, commercial and tourist center, creating a continuing demand for properties. Dubai's diverse and expanding economy offers numerous business opportunities, attracting large numbers of people looking to relocate to the city and invest in property.
Dubai: the world's 19th largest FDI destination
According to UNCTAD's World Investment Report 2022, the United Arab Emirates has seen an 11% growth in foreign direct investment (FDI) flows. In 2021, FDI inflows reached US$20.6 billion, compared with US$19.8 billion in 2020. This reinforces the UAE's position as the leading FDI destination in the Arab world and the 19th globally, source BNP Paribas United Arab Emirates Investments, updated June 2023.
The Dubai government has put in place favorable policies for foreign investment in partnership with many countries, which offers solid legal protection for investors. These factors reduce the risks associated with property investment in Dubai. The United Arab Emirates, which includes Dubai, offers a stable political and economic environment.
A dynamic property market
Dubai is known for its dynamic property market, offering a wide variety of properties ranging from luxury flats to high-end villas. In addition, many innovative and iconic real estate projects have been developed in Dubai, attracting the attention of investors from all over the world. The diversity of real estate offers means that investors can find opportunities which suit their needs and budget.
Modern infrastructure
Dubai's infrastructure is modern (Hyperloop, autonomous vehicles) and well-developed, with roads, public transport, medical free zones (Emirates SkyPharma), airports and high-quality facilities (source « Dubai, an infrastructure fit for the future »). The city is also known for its iconic skyscrapers and major projects such as Palm Jumeirah and Dubai Marina. These well-designed, high-quality infrastructures add value to the city's real estate and attract investors from all around the world.
Tax advantages
Dubai offers attractive tax benefits for property investors. For example, there is no personal income tax, dividend tax, capital gains tax, social security contributions on salaries and corporate income tax. This favorable tax environment, combined with the absence of tax reporting obligations for individuals, is attracting an increasing number of people to settle in Dubai, which is boosting the property market.
In addition, foreign investors can benefit from certain tax advantages, such as tax-free periods.
Dubai offers unique tax benefits to its investors, including no tax on : property, rental income and capital gains.
This policy enables investors to considerably improve the profitability of their investments.
Attractive lifestyle
Dubai is renowned for offering an upmarket lifestyle, with world-class shopping malls, renowned restaurants, recreational facilities and beautiful beaches.
Here are some of the city's iconic landmarks:
The city also offers a wide variety of cultural and entertainment activities in the desert (four-wheel drive safari), within the city (boating or cruising on Dubai Creek) or nearby (visiting Abu Dhabi), making it an attractive destination for residents and tourists alike. This high quality lifestyle helps to maintain a high demand for property in Dubai.
Property prices compared to other major cities around the world
You can buy residential property in Dubai, which in some cases can be cheaper than other major cities around the world.
| | | | | |
| --- | --- | --- | --- | --- |
| Cities | Dubai | London | New-York | Paris |
| Price per square meter | €3,588.47 | €15,325.9 | €14,670.7 | €12,425.4 |
This policy of low prices, combined with a high quality of life and security, attracts international investors. Some of the best places to invest in Dubai are close to offices, business centers (in Dubai Marina, for example) or tourist attractions (Palm Jumeirah or Burj Khalifa).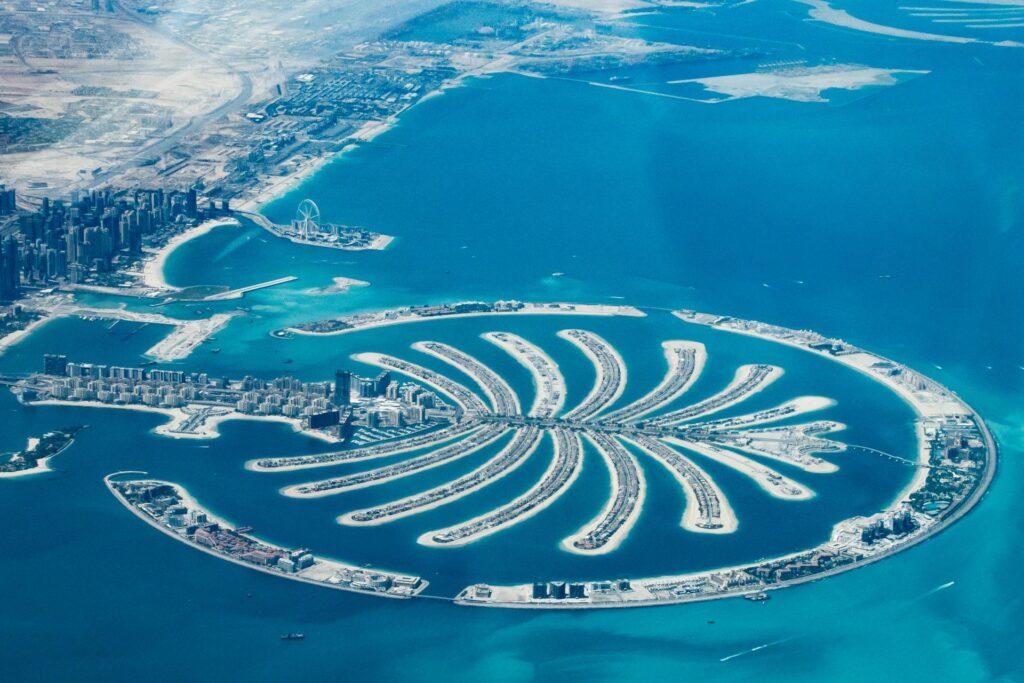 Palm Jumeirah, Dubai
Investing in Dubai property with property developers
A way to invest in Dubai is to work with property developers of good repute. These companies develop large-scale real estate projects, such as residential complexes, skyscrapers or residential communities. By purchasing property directly from these developers, investors often have access to special offers, payment facilities and the ability to customize their property according to their preferences. This can be particularly attractive to those looking for luxury properties in Dubai.
Luxury flat or villa, the advantages
It is possible to buy a house or flat in Dubai. Since 2002, foreigners have been able to acquire freehold ownership of property in the emirate.
There are several advantages to buying a luxury flat or villa in Dubai:
Prestige and lifestyle
Buying a luxury property in Dubai offers an upmarket and prestigious lifestyle. Luxury flats and villas are often located in exclusive neighborhoods with modern facilities, panoramic views and a high level of security. Residents can enjoy quality amenities such as private swimming pools, spas, golf courses or private beaches.
Value maximization
Luxury properties in Dubai often have strong potential for long-term value maximization. The city is experiencing a steady demand for quality real estate, due to its popularity as a tourist destination and business center. Sustained economic growth and large-scale infrastructure projects continue to attract investors and residents, which can lead to a value maximization of property.
Things to consider before investing in property in Dubai
To invest in property in Dubai, it is essential to choose a residential area that offers a favorable return on investment. Considering the size of the city, some residential areas offer higher rates of return than others.
According to data from the Dubai Real Estate Regulatory Agency, the average price of flats in Dubai in 2022 corresponded to an average purchase price of €3,588.47 per square meter, (€3,699.2 square meter in the city in 2023). The most expensive areas are Downtown Dubai, Palm Jumeirah, Jumeirah Beach Residence and Jumeirah Village Circle and Business Bay.
| | | |
| --- | --- | --- |
| Dubai districts | Annual yields | Average price per square meter |
| Jumeirah Village Circle | 7.5% | €2,146 |
| Palm Jumeirah | 5.3% | €3,538 |
| Downtown Dubai | 5.4% | €3,978 |
| Business Bay | 5.3% | €3,440 |
| Dubai Marina | 4.8% | €3,182 |
| Jumeirah Beach Residence | 3.7% | €3,376 |
On the other hand, the most affordable areas are International City and Dubai Silicon Oasis. It should be noted that prices can vary depending on a number of factors, including the location, size and quality of the property.
To guarantee a good rate of return on your property investment, there are a number of factors to consider:
1. Location:

the location of the property plays an important role.

2. Condominium fees:

residential buildings in Dubai often offer additional services such as swimming pools, gyms, landscaped parks, lifts, etc. These services come with a fee, which you will have to pay for yourself. These services come with fees that should be taken into account before investing.

3. Local amenities and services:

assess the availability of facilities and services such as supermarkets, grocery shops, pharmacies, etc., both in the residence and in the surrounding area.

4. Size of the property:

consider the size of the property because this can affect the potential return on the investment.
Contact an iad Overseas consultant*
Dubai offers overseas investors a wide range of affordable and luxurious property options to suit different budgets and personal preferences. Budget, local quality of life and tax advantages in each residential area, our team of iad Overseas real estate consultants* are eager to share their expertise and help you exploit the best real estate opportunities. Contact an iad Overseas consultant*, a specialist in international real estate, to find the place to invest  » in Dubai!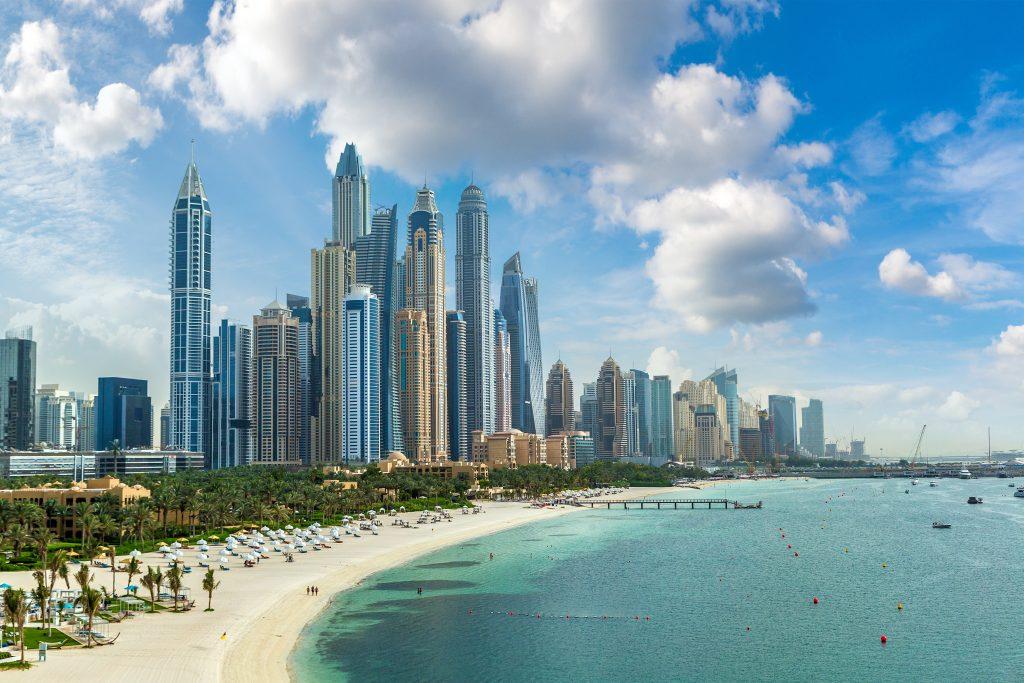 [] * In France, all iad consultants are independent sales agents of I@D France SAS, registered with the RSAC, and hold a real estate canvassing card on behalf of I@D France SAS (without holding funds). In Spain, Italy, Portugal and Germany, all the consultants are independent agents acting on behalf of the subsidiary to which they are attached (without holding any funds)