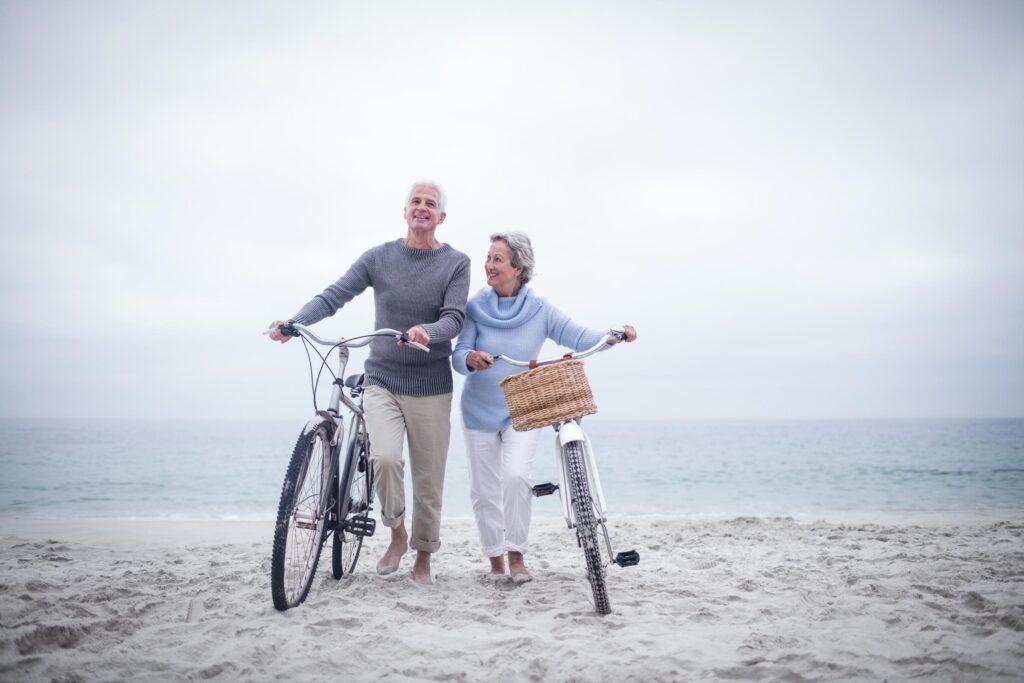 Retirement is a time for relaxation and enjoying life. It's your chance to explore new places and make long-lasting memories and Portugal is a popular destination for retirees. With its warm climate, beautiful beaches, and affordable living, it's easy to see why. Portugal also has a rich history, bustling cities, and charming villages – giving you plenty to explore.
If you've decided to start a new chapter in your life and retire to Portugal read on to find out where to live, things to do and the practicalities
Why retire in Portugal?
Portugal features in the top 10 places to retire to in Europe and there are many reasons to make this country your home, including quality of life, great weather all year round and a relatively cheap cost of living.
The pleasant climate
Portugal offers mild winters and hot summers and if you choose to live on the coast the Atlantic breeze will keep you cool. The Algarve in the south is warm most of the year, with average temperatures reaching 29°C in the summer, dropping to a balmy 16°C in the winter.
The north is pleasant, but doesn't experience the searing summer heat, with the temperature averaging 26°C in summer. It tends to rain more in the north in winter, and the Atlantic storms can be quite dramatic.
Affordable cost of living
One of the biggest draws of retiring in Portugal is the relatively low cost of living. The cost of groceries, utilities, and transport is low compared to the UK, for example groceries are 23.3% less and overall restaurant prices are 43.1% cheaper in Portugal.
| Item | UK (converted to €) | Portugal |
| --- | --- | --- |
| Basic restaurant meal | 17.15 | 9.00 |
| 3-course meal for 2 | 68.62 | 40.00 |
| Glass of beer | 4.80 | 2.00 |
| Cappuccino | 3.40 | 1.45 |
| Bottle of wine | 8.00 | 4.00 |
| Monthly travel pass | 76.05 | 40.00 |
| Utilities per month (gas, electricity, water) | 230.40 | 112.55 |
A great selection of things to do
If you're looking for an active retirement, there are plenty of opportunities for outdoor activities such as hiking, golfing, and water sports. The country is also home to many cultural attractions, including museums, art galleries, and historic landmarks.
Discovering Portugal on foot is a great way to get close to nature and take in the fresh air. From the inland walks of Via Algarviana in the south, and the Seven Hanging Valleys trail along the Algarve clifftops to the picturesque Portugal Way in the north, hiking in Portugal is a year-round activity thanks to the comfortable climate.
Golfers are spoilt for choice in Portugal, which is home to some of the best courses in the world. There are over 100 to choose from with many being located on the Algarve, including Monte Rei and Quinta lo Lago in Faro. You'll also find courses further north, such as Oitavos Dunes and Penha Longa in Lisbon, and Estela in Porto.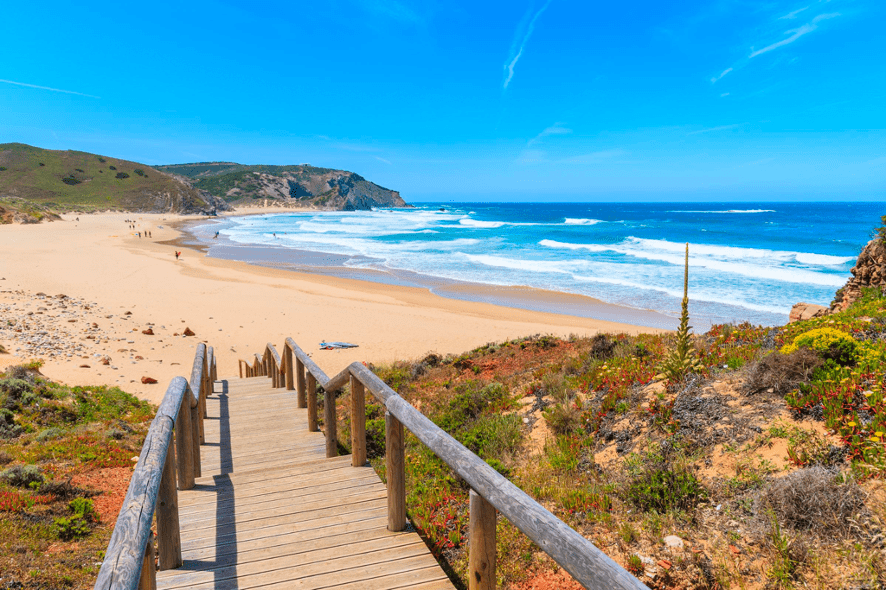 The wild Atlantic coastline makes sports such as surfing popular, while calmer waters of the Algarve offer snorkelling, paddleboarding and boat trips.
Some other ideas for unforgettable things to do when retired in Portugal are:
Visit the capital Lisbon and discover the history of this fascinating city. From the Torre de Belem and the Jeronimos Monastery to the quaint street cafés, Lisbon is a mix of cultural sights.
Taste port in the Douro Valley. Home to the famous port manufacturers Graham's and Taylors, this region is the place to sample this sweet alcoholic drink that tastes like a heavy wine.
Take a trip to Sintra – the UNESCO heritage site located at the base of the Serra Mountains. The stunning architecture, castles and palaces offer plenty of photo opportunities.
Walk the Fisherman's Trail in Alentejo – this scenic coastal walk along the north Atlantic coastline is 143 miles of breath-taking views, coves and countryside. The walk takes about 10 days, and you can either book a tour or plan your own route and accommodation along the way.
The Portuguese beaches are another way to enjoy your retirement time in Portugal. From the calmer waters of the southern Algarve to the wind-swept beaches of the Atlantic, there are hundreds of beaches to discover.
Reputable healthcare system
One of the most important considerations for retirees when choosing a new country to live in is healthcare. Portugal has a comprehensive public healthcare system (Serviço Nacional de Saúde- SNS) that is accessible to retired residents who have paid National Insurance in the UK. To join the system you will need to contact the NHS to apply for an S1. You also have the right to public healthcare if you have paid into the social security system, for example, if you have been employed or self-employed in Portugal.
There is also a large network of private healthcare providers available for retirees who want to pay for additional services or get faster access to treatment. The average cost is €400 per month, which you should budget for if you want to take this option, but remember hospital treatment may cost extra.
Delicious food
The Portuguese enjoy a Mediterranean diet that includes fresh fish, meat and vegetables. Some famous dishes are piri-piri chicken (made with spices used by the Portuguese colonies), caldo verde (a hearty soup made with chorizo and potatoes and often served at family events) and croquettes (similar to the Spanish tapa and filled with beef or fish).
Eating like a local is invariably cheaper than frequenting the tourist hot spots. When you visit a bar you should ask what the server recommends instead of asking for the menu. These means you get to try traditional food and practise your Portuguese. The Portuguese people are friendly and welcoming to foreigners, making it easy to integrate into the local community.
Safety
Portugal is a relatively safe country with a low crime rate, making it an ideal place for retirees to relax and enjoy their life in the sun.
The Global Peace Index 2023 ranked Portugal as the 7th most peaceful place to live out of over 150 countries. It's worth noting that the UK doesn't even make it onto the list.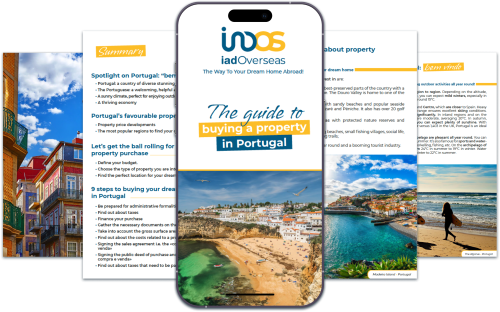 All you need to know
Receive free guides and advice from our experts delivered straight to your inbox.
Get the guide
The practicalities of retiring to Portugal
When you retire to Portugal understanding things like visas and how to open a bank account will make the move much smoother.
Visas and residency requirements
Portugal offers several types of visas and residency permits for retirees. The most relevant one for UK and non-EU citizens is the D7 visa (also known as the Passive Income or Retirement Visa).
Before you move to Portugal you must apply for a short-term D7 visa which allows you to stay in the country for four months (instead of the 90 days for tourists).
When you arrive, you should apply for the long-term D7 visa at the Immigration and Border Service (Serviço de Estrangeiros e Fronteiras – SEF) as soon as possible.
You will have to show:
Proof of sufficient financial resources to support yourself while living in Portugal. This is currently a monthly income of €760, which could be from your pension.
If you have a pension you will need to show statements from the last 6 months.
Have somewhere to live.
Not have a criminal record.
Proof of health insurance.
The D7 allows you to stay in Portugal for 2 years, and can then be renewed for 3 years. After a total of 5 years you can convert your D7 to a permanent resident's visa.
It's crucial to understand the visa and residency requirements well in advance of retiring in Portugal, as the process can take some time to complete. We recommend you start the process at least six months before you plan on moving. By understanding the requirements, you can avoid any setbacks or delays and ensure a smooth transition to your retirement in Portugal.
You may have heard of the Golden Visa, which allowed you to invest in Portugal and obtain a residency visa. However, this is to be discontinued in 2024.
Opening a bank account in Portugal
To open a Portuguese bank account you will need a tax identification number (Número de Identificação Fiscal – NIF). You can either do this yourself at the tax office (Authoidade Tributária e Adueira) or pay a lawyer to do it for you. You will need this number to pay bills and do anything administrative in Portugal, such as taking out insurance, mobile banking and applying for a loan, so you should obtain it as soon as possible.
In most cases you will need to visit the bank in person to open an account. The documents required are:
Passport
NIF number
Proof of address
Proof of pension or income
The bank may also ask you for a deposit of around €250.
Finding a home
Deciding to retire to Portugal means you can search for the home of your dreams, whether you want to live on the coast, inland or in a town or city. At iad Overseas we have a wide selection of properties to buy in Portugal to suit all tastes.
Before you purchase a home you may decide to rent so you can explore the area and see if it's right for you. We can also help you find a rental property in Portugal.
Once you've retired to Portugal you'll find plenty to keep you busy. As we've mentioned above, you can play golf, walk in the countryside and discover the many authentic Portuguese villages.
If you'd like to find out more about retiring in Portugal and finding a home, contact an iad Overseas property consultant* who will help make your move a success.
* In France, all iad property consultants are independent sales agents of I@D France SAS, registered with the RSAC, and are holders of a real estate canvassing licence on behalf of I@D France SAS (without holding any funds).
Read more about how to choose the perfect location to live in Portugal.