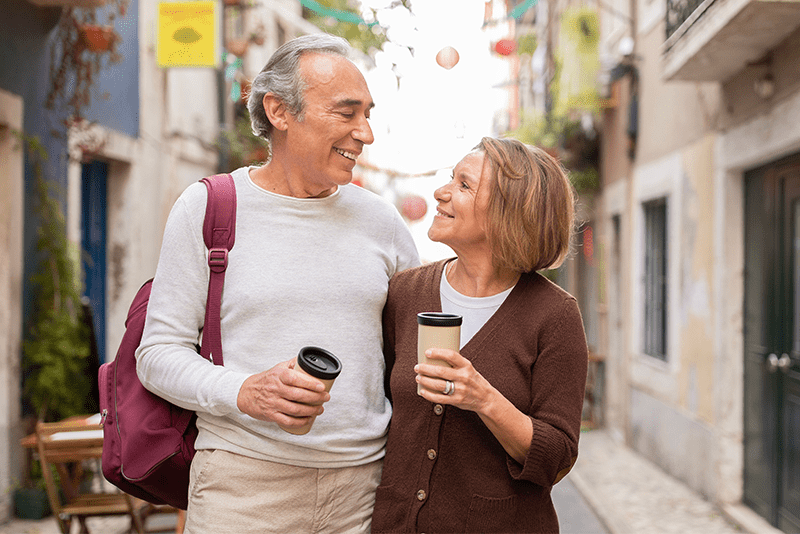 If you've been dreaming about your retirement for years and you want to live abroad, Portugal could be the perfect place. With its stunning beaches, vibrant culture and breathtaking scenery, Portugal is a top destination for retirees looking to relax and enjoy a leisurely pace of life.
From the sunny coastal towns to the quaint villages in the countryside, Portugal offers a diverse range of places to retire to. Whether you're looking for a busy urban area full of cultural attractions or a quiet corner where you can enjoy nature, you'll find it in Portugal.
This article will give you guidance on retiring to Portugal. We'll help you find the perfect spot to live and advise you on the practicalities.
Reasons to retire to Portugal
If you're looking for a relaxed, laid-back lifestyle and an affordable place to retire, Portugal could be the answer. Voted as the best place to retire to in the 2023 International Living Annual Global Retirement Index, Portugal has many attractions that make it an ideal place to retire:
Affordable cost of living – with its low taxes and inexpensive prices, Portugal offers retirees a chance to live well on less. The price comparison table below demonstrates this.
| Item | UK (converted to UK (converted to €) | Portugal |
| --- | --- | --- |
| Basic restaurant meal | 17.15 | 9.00 |
| 3-course meal for 2 | 68.62 | 40.00 |
| Glass of beer | 4.80 | 2.00 |
| Cappucino | 3.40 | 1.45 |
| Bottle of wine | 8.00 | 4.00 |
| Monthly travel pass | 76.05 | 40.00 |
| Utilities per month (gas, electricity, water) | 230.40 | 112.55 |
Beautiful climate – Portugal enjoys plenty of sunshine, an average temperature of 21°C and minimal rain. This makes it an ideal spot for outdoor enthusiasts, whether you prefer hiking in the countryside or lazing on the beach. The country's location on the Atlantic makes it more bearable in the height of summer than its European counterparts, thanks to the cooling sea breezes.
Cultural diversity – Portugal offers plenty of cultural activities from local festivals to music and theatre performances. There is also a thriving arts scene with galleries and museums dotted throughout the country. The Portuguese people are friendly and a great way to get to know them is to visit the traditional villages and try out your Portuguese.
Affordable property – You'll find a selection of properties to buy in Portugal, from city apartments to luxury villas with pools or countryside houses. Whatever your budget and whether you want to buy or rent, iad Overseas can help you find your dream home.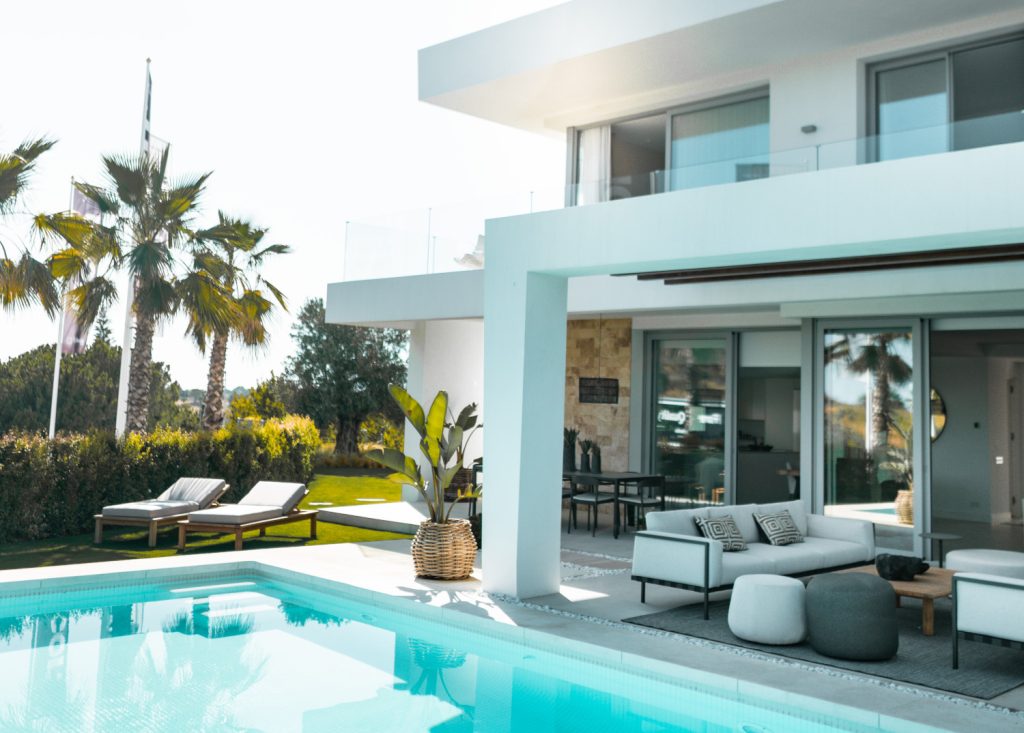 Find your dream property abroad
Search
Finding a Place to Live in Portugal
When looking for a place to live in Portugal, you should consider a few key factors. First, you'll want to choose an area that suits your taste and lifestyle. Do you want to live in a location that's close to attractions and other amenities such as shops and transport, or would you prefer more of a rural area or a home by the sea?
You'll also want to investigate what type of housing would suit you best – whether it's an apartment, house, or villa. It's important to think of the future when selecting a property. It may be a good idea to choose an apartment with a lift or a villa without steps.
The main regions of Portugal are:
The Algarve – This is the tourist hub of the south with sandy beaches and a spectacular coastline. This region is popular with golfers and home to some of the best courses in the world such as Monte Rei, Quinta do Lago and Vale do Lobo. There are lots of ex-pat communities in the Algarve, especially in Albufeira, so it'll be easy to make friends, while inland towns like Tavira and Lagos feel more Portuguese.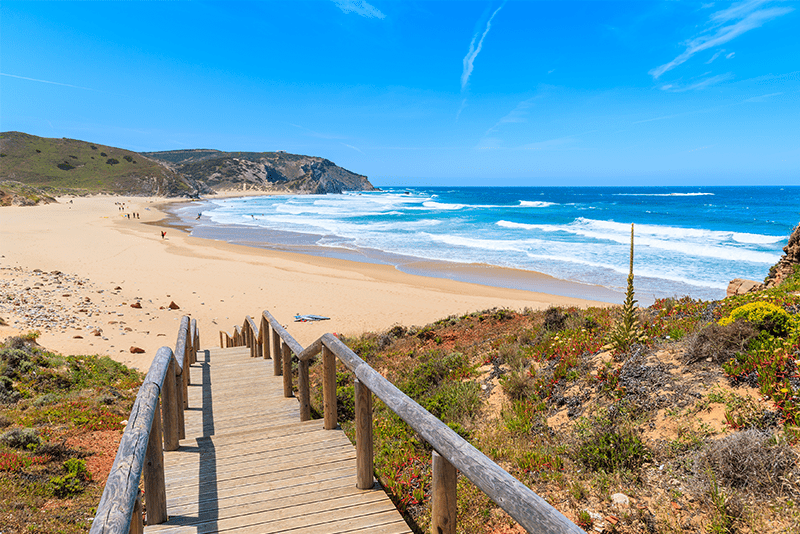 Praia do Amado beach, popular place to do water sports, Algarve, Portugal
Northern Portugal – With a diverse landscape of mountains and coastal scenery, the north is ideal if you love walking and want to explore the small traditional towns and villages. You'll find Portugal's second-largest city, Porto, in the north, the home of port, the Douro River and plenty of charming streets to wander along.
The Silver Coast – If you want to retire to an area that feels authentically Portuguese, then the Silver Coast is ideal. Located between Porto and the capital Lisbon, this region offers uncrowded beaches, picturesque scenery, and a laid-back way of life. Seafood is abundant in the coastal towns and local markets offer a variety of cheap, fresh produce. From Sao Martinho do Porto with its sheltered bay to the beautiful Obidos Lagoon and the Serra da Estrela mountain range, the Silver Coast has plenty to explore for retirees.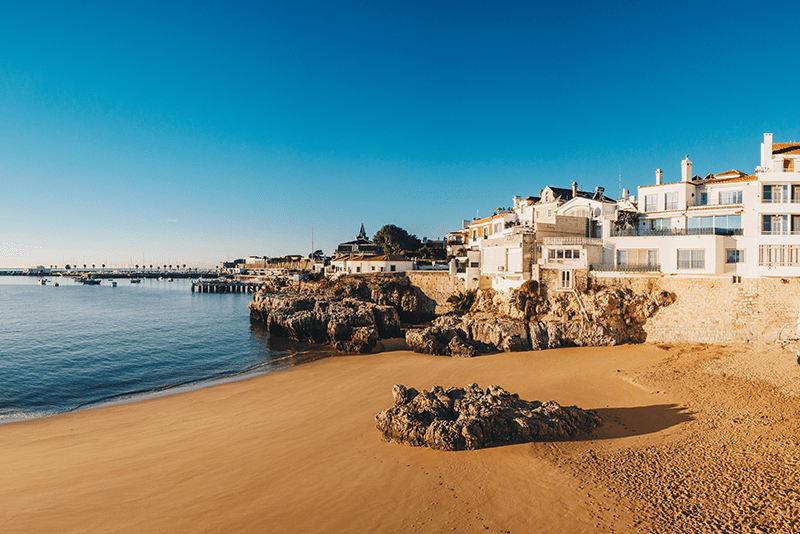 Cascais panorama beach in Cascais Lisbon district, Portugal
Lisbon – popular with people who are of retirement age or those who have decided to retire early, Lisbon has a vibrant atmosphere with great transport links, so you don´t need to own a car. You'll find plenty of cafés and restaurants where you can sample the local cuisine. You can also visit historic monuments such as Belém Tower and the Castle of Saint George. There are also lots of theatres and museums to entertain you.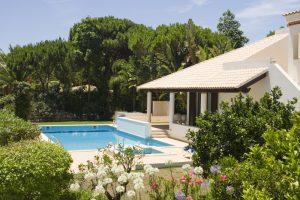 Where to buy property in Portugal?
Other factors to consider when retiring to Portugal
Retirement in Portugal can be a fantastic experience, but it's important to consider the practicalities when planning your move.
Residency
Since Brexit, UK citizens (and other non-EU citizens) can only stay in Portugal for a maximum of 90 in 180 days per year. The alternative is to become a resident of Portugal. To do this, you must apply at the Portuguese Embassy in London where you will receive a temporary residence permit that lasts for one year. When you arrive in Portugal, you should apply for permanent residency at the local Portuguese Immigration and Borders Service (SEF).
You will need to book an appointment and take the following documents:
A valid passport
Your temporary residency certificate
Two identical photographs
Proof of retirement income
Health insurance
Confirmation of where you are registered to pay tax
Your property deeds or rental contract
The authorities will also ask for your permission to check that you have no criminal record.
Healthcare
If you're considering retirement in Portugal, healthcare is an important factor to consider. Portugal has a good public healthcare system, the Serviço Nacional de Saúde (SNS), which ranks 16th on the Numbeo European National Healthcare Index.
If you are a resident of Portugal, you are still entitled to the same healthcare as you received in the UK once you are over 65 and retired. You will need to apply for an S1 from the NHS. If you do not have a UK state pension, you can access the Portuguese health system by contributing social security payments, but it may be more beneficial to set up a private healthcare insurance plan. Many ex-pats opt for private cover because it allows them to access private clinics, get shorter waiting times for treatments, and even get coverage for certain alternative therapies not covered by the public system.
Taxes
In Portugal, if you stay for more than 180 days in a year, then you are considered a tax resident. Once this happens, your worldwide income will be subject to Portuguese taxation at 14.5% for income of up to €7,479. This increases on a sliding scale up to a rate of 48% for income over €78,834.
Everyone's circumstances are different, so we advise you to speak to an accountant familiar with Portuguese regulations to ensure you are taxed the correct amount.
About Golden Visa - oct 2023 edit
Prime Minister Antonio Costa announced on October 2, 2023 that Portugal will stop granting tax exemptions to foreign pensioners from 2024, but that the exemptions already granted will remain in force.
Safety
Portugal is one of the safest countries in Europe, ranked 6th out of 20 countries on the 2022 Global Peace Index. Crime rates are relatively low. Eurostat reports 87.2 offences per hundred thousand inhabitants in 2020.
However, it's always wise to be cautious wherever you live, and locking up and keeping your valuables out of sight is advisable.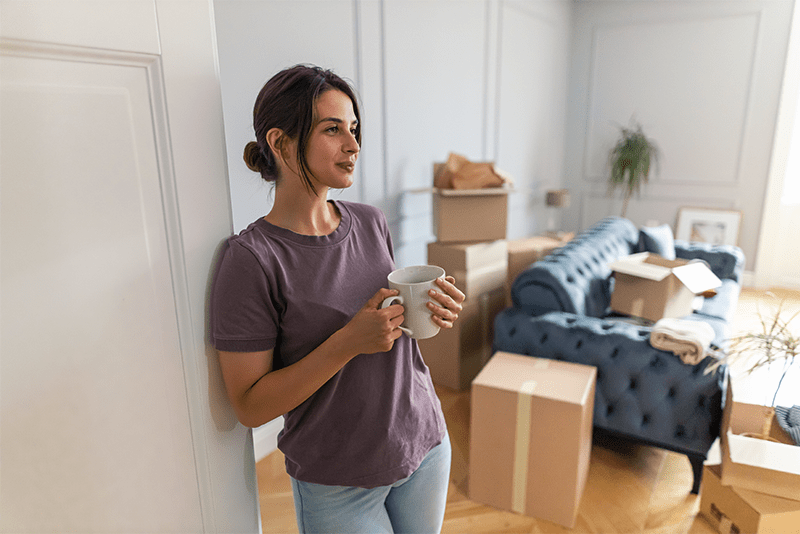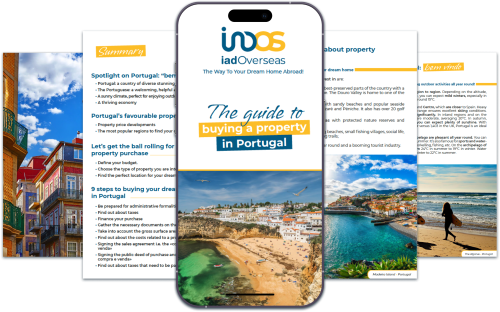 All you need to know
Receive free guides and advice from our experts delivered straight to your inbox.
Get the guide
Your moving to Portugal to retire checklist
12 months before:
Put your house on the market if you intend to sell
Get all your paperwork in order, such as pensions, credit cards, loans, stocks and shares etc
Take Portuguese classes, either online using an app such as Duolingo, or at a local college
Plan your budget so you know how much you need to live. Consider:
Housing (rent or mortgage if applicable)
Utility costs (gas, electricity, water)
Food and eating out
Travel/fuel/vehicle costs
Healthcare (if applicable)
Taxes (property, wealth)
6 months before:
Apply for your short-stay visa if you need one. You will need this before you can apply for long-term residence. You can then apply for your residence permit once you arrive in Portuga
Open a Portuguese bank account. You can either visit a branch in Portugal or do this online if you are a resident. You will need:
A valid passport
Proof of address
A NIF (tax residency number)
Proof of your retirement
Your UK pension – if you are entitled to a UK pension you should apply for an S1 form from the UK Overseas Healthcare Services Department
3 months before:
Decide what furniture and belongings you wish to take and book a removal company. You may find it cheaper to buy items such as white goods in Portugal
Pets – Arrange their vaccinations and transport. You will need to pay for a rabies vaccination and your pet must be microchipped. Since Brexit, UK pet passports are no longer accepted by Portugal. You will need an EU Animal Health Certificate which can only be obtained from your vet
Arrange private healthcare if you are not entitled to public health insurance
Inform all companies such as utility suppliers, insurance companies etc. of your change of address
On arrival:
You will have to become a resident if you plan to stay in Portugal for longer than 90 days at a time. Book an appointment at the local Foreigner's Office and prepare the documents you will need
Enjoy your new life in Portugal!
If you're planning a relaxing retirement in the sun, Portugal could be just what you're looking for!
With its low costs and plenty of sunshine, it's easy to see why this country has become such a popular destination for retirement-aged expatriates from around the world.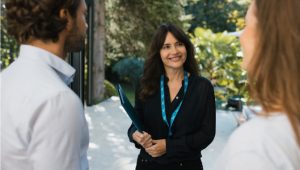 Want to buy abroad?
Tell us about your project, our specialized agents* will guide you!