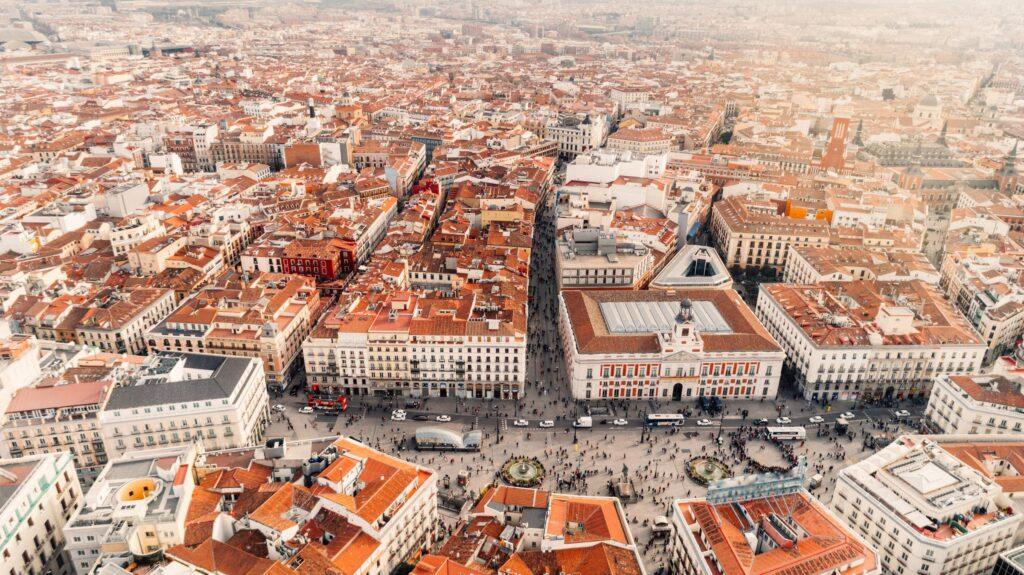 Madrid, the capital city of Spain, is a vibrant and diverse city that is quickly becoming one of the most popular destinations for property investors around the world. With its rich cultural heritage, stunning architecture, and high quality of life, Madrid is the perfect location if you want to invest in a Spanish city.
This article gives you information on the main districts along with the factors to consider if you would like to invest in Madrid, such as financial considerations, lifestyle and property prices.
Things to consider when investing in Madrid
Before investing in any property market, it is essential to consider some crucial things that will help you make an informed decision. These include:
Location – the location of the property is essential in determining its value and potential for growth. You should consider investing in areas that are well connected to the rest of the city and have easy access to transport, shopping centres, and other amenities.
Property use – Madrid offers a variety of properties, mainly apartments, especially in the city centre. You should take into account the type of property that will suit your investment needs, such as whether you intend to rent out the property to tourists or use it as a long-term let or keep it for your own use to resell.
Legal requirements – before investing in Madrid, it is vital to understand the legal requirements of buying a property in Spain, especially if you are a non-EU resident. If you plan to rent out the property you also need to be aware of the different regulations.
Finding the best location to invest in
Madrid is divided into 21 districts, each with unique characteristics and investment potential. Some of the most popular districts for property investors include:
Chamberi
Chamberi is an up-and-coming district filled with wide boulevards, plenty of bars and restaurants and has a village-like atmosphere. Here you'll find local markets, tapas restaurants and a traditional welcome from the Madrileños (people of Madrid).
This is a popular area for property investors who want to keep their property for occasional visits and enjoy the relaxed, friendly lifestyle. It also makes a good investment for short-term holiday lets to people wanting to experience the authentic side of Madrid. In addition, many international students look for property to rent in Chamberi.
Salamanca
A trendy district that is known for its high-end shopping centres, restaurants, and nightlife, making it an ideal location for investors looking for properties to rent to tourists or professionals.
Sometimes referred to as the 'Golden Mile' of Madrid, Salamanca is an exclusive area but still has a traditional feel. Well-connected and within easy reach of the Cuatro Torres Business Area, this is a buzzing district that feels safe.
Retiro
Retiro is a popular district that is known for its beautiful park, museums, and cultural attractions and is perfect if you want to target premium renters looking for holiday rentals and weekend breaks.
Retiro Park is an enormous green space set in the heart of the city and spans over 125 hectares and with more than 15,000 trees. Buying a property near the park is also a sound investment if you wish to rent it out to professionals or families with a high level of disposable income.
We have several expert Madrid property agents dedicated to helping you find the ideal investment property.
Chamartin
Chamartin is a district that offers a range of investment options for residential homes and company lets. An ideal choice for renting to professionals too, this area is well-connected to the centre of the city.
There are several schools in this district, and you'll also find sports facilities and green spaces. Home to Real Madrid's famous stadium, the Santiago de Bernabéu, a property here makes a great place to market to football fans.
La Latina
This district is located in the centre of Madrid, is full of traditional old buildings and has an authentic Spanish atmosphere. The most famous street in Madrid to sample tapas is here, where you'll find over 50 bars.
There are also plenty of squares, historical monuments and churches set in random locations on the narrow streets. La Latina is a great area to invest in if you want to target tourists who want to be in the city centre and experience 'the real' Madrid.
These are the most popular investment districts, but there are many others such as Arganzuela, Hortaleza and Lavapies. The table below shows the average property price per square metre of each district to give you an idea of what you're likely to pay. These are the most up-to-date figures available from July 2022.
| District | Average price per m²€ |
| --- | --- |
| Villaverde | 1,890 |
| Puente de Vallecas | 1,960 |
| Usera | 2,030 |
| Carabanchel | 2,190 |
| La Latina | 2,270 |
| Moratalaz | 2,500 |
| Villa de Vallecas | 2,500 |
| San Blas | 2,500 |
| Vicálvaro | 2,650 |
| Ciudad Lineal | 2,930 |
| Barajas | 3,180 |
| Tetuán | 3,520 |
| Fuencarral-El Pardo | 3,640 |
| Hortaleza | 3,640 |
| Moncloa-Aravaca | 3,820 |
| Arganzuela | 3,900 |
| Retiro | 4,320 |
| Centro | 4,570 |
| Chamartín | 4,580 |
| Chamberí | 4,890 |
| Salamanca | 5,320 |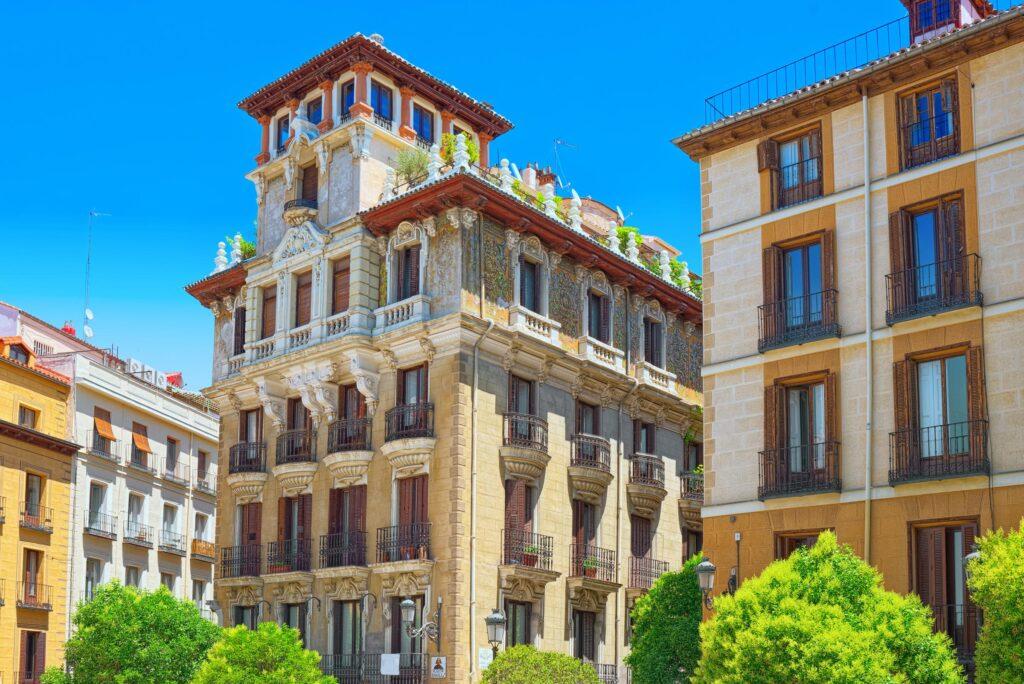 Maximising the use of your Madrid investment property
Investing in Madrid's property market offers a range of options for the use of the property, including:
Renting to tourists
Madrid is a popular tourist destination that welcomed over 4.5 million domestic visitors plus approximately 4.6 million international visitors in 2022. This is a massive opportunity for investors looking for short-term rental income.
The latest figures from the Spanish National Institute of Statistics show that in February 2023, 60.3% more tourists visited Madrid than in the same month the previous year. Of these 10.9% were French and 8.0% were from the United States.
Another interesting figure for the whole of Spain is that in February 2023, 3,399 tourists made their own holiday arrangements, compared to 922 travelling with a package deal. This demonstrates the enormous opportunity to tourists who prefer to create their own holiday.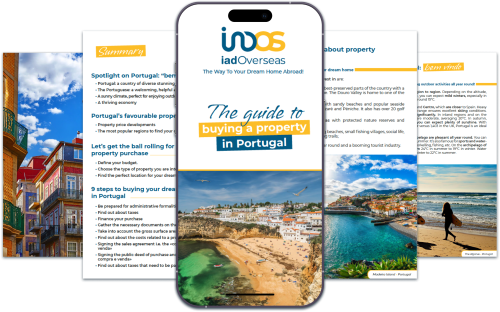 All you need to know
Receive free guides and advice from our experts delivered straight to your inbox.
Get the guide
Long-term lets
Long-term rental properties offer a stable and consistent income for investors looking for passive income. These are the current average rental prices:
| Type of property | € per month |
| --- | --- |
| Apartment (1 bedroom) in City Centre | 1,000.30 |
| Apartment (1 bedroom) Outside Centre | 761.17 |
| Apartment (3 bedrooms) in City Centre | 1,667.21 |
| Apartment (3 bedrooms) Outside Centre | 1,212.65 |
When you buy to let out you should consider the expenses involved, such as insurance, community charges and property management fees if you don't want to deal with the rental yourself.
A rental property can be a significant asset as prices appreciate and you can choose to sell when the time is right.
Reselling
Reselling is an investment strategy that involves buying a property and then reselling it for a profit at a later date. You could leave the property empty for your own use, so you have a base in a major European city. This is ideal if you work remotely and want to split your time between Spain and another country.
Choosing this kind of investment means you have to monitor the property market so you sell to make the maximum capital gain. During 2022, the Institute of National Statistics reported only a small increase in property prices in Madrid, at 2.7% on the previous year, so it may be worth considering renting out your property until prices
Legal requirements - buying
If you're a European citizen you can buy a property in Spain and you will need to get an NIE number (Foreigner's Identity Number) for tax purposes. This applies even if you don´t plan to live in the property. You can either apply for it at the consulate in your country or the local foreigner's office once you arrive in Spain. You have to do this in person, no one can do it on your behalf.
For British citizens, the process is different since Brexit. You are only allowed to spend 90 days in Spain if you are not a resident, which may not be an issue if you plan to live in and manage your investment in Madrid from the UK.
Legal requirements – letting
Different regulations exist depending on whether you plan to rent your Madrid property to tourists or as a long-term let.
Renting to tourists
You will need to apply for a tourist licence and provide various documents to rent out a property in Madrid. These are:
proof of ownership
NIE number
proof that the property is to be rented to tourists (e.g. property management contract)
insurance documents
Companies such as Airbnb and Booking.com will require your tourist licence number before listing the property. The property cannot be rented out for more than 90 days – so you cannot use it as a winter let – this is classed as long-term rental.
Obtaining a tourist licence can take a minimum of 2 months, so you should start the process as soon as you are sure you want to let your investment property.
Long-term rental
The first thing is to decide if you want to let the property as furnished or unfurnished. As many rental properties in Madrid are apartments tenants are more likely to want a furnished property, so you should budget for this.
Once you have marketed the property, either through an agent or privately, the tenant you select will pay you a deposit, which is usually 1 or 2 months' rent. You must transfer the deposit to the Agencia de Vivienda Social in Madrid, which acts as protection for the tenant. To find out how to do this, visit « communidad de Madrid » website.
It is important to draw up the right kind of contract (contrato de arrendamiento de Vivienda) which should ideally be done by a lawyer. You should include certain clauses such as:
an annual rental increase according to the inflation rate (note that during 2023 rent can only be increased by 2%, which will rise to 3% in 2024)
the length of the contract – usually from 1-5 years
whether you allow pets
that the tenant is expected to pay for small repairs
There are many contracts on the Internet, but it is not advisable to use these unless you speak good Spanish and have some knowledge of Spanish rental laws.
Investing in Madrid's property market offers numerous benefits, including potential high rental yields, capital appreciation and high demand.
If you're interested in buying an investment property in Madrid get in touch with us to find out how we can help you make the most of your investment.
Spain continues to have one of the lowest inflation rates in Europe, making Madrid a wise investment.