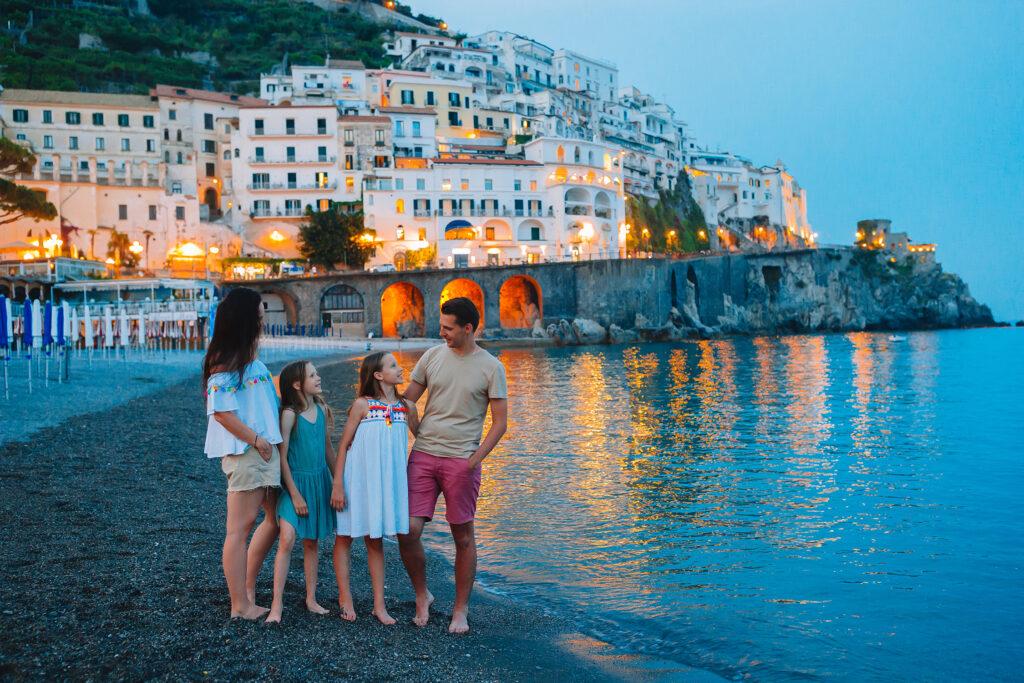 If you're thinking of moving to Italy with your family, you may be wondering which cities are best suited to your needs. You'll need to base your decision on your professional activity and your needs. Discover the best places to live in Italy with your family.
Italy's most family-friendly cities
It's in the north of Italy that you'll find the most varied work opportunities. Let's take a look at what the northern cities have to offer…
Turin, the automotive capital
Turin is Italy's little Detroit. It is home to the historic headquarters of Fiat, the industry's successful brand, which merged with Chrysler, the American giant. For the time being, their head office is still in Turin.
It is therefore the place where automotive engineering is developed. Fortunately for expatriates, the sector has expanded to include aerospace, telecommunications and information technology.
More good news?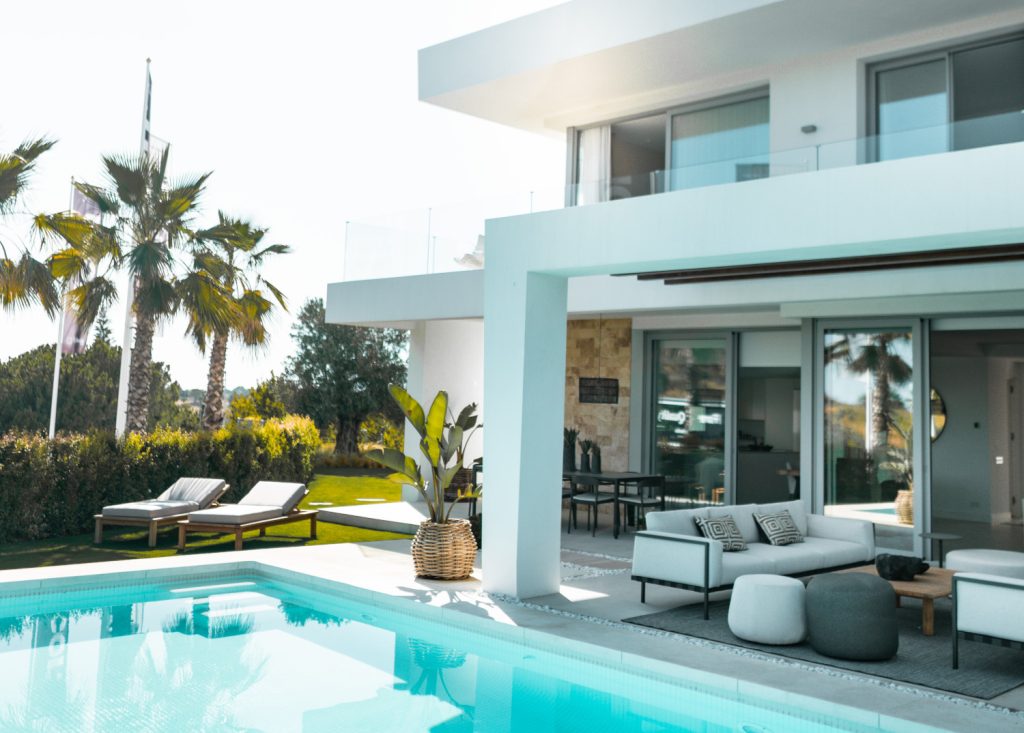 Find your dream property abroad
Search
Turin is home to a number of start-ups and tech companies, including cybersecurity, artificial intelligence and software development firms. The IT sector in particular is growing strongly in the city.
Major banks such as Intesa Sanpaolo have their headquarters there, and sometimes their office towers, as at The City in London.
There's no doubt that Turin is a city to be reckoned with in Piedmont, and an extraordinary opportunity for your family.
Price per m²: in the city center, expect to pay €3,425, compared with €1,740 outside.
Population: 850,000 in the center and 2.2 million including the conurbation.
Schooling: a full range of education options, from nursery school to university.
International schools: these include the Vittoria Junior International School and the World International School of Torino. The latter has been awarded the eco-school label, and 50% of its pupils are Italian.
Health: the Regina Margherita Children's Hospital is a nationally renowned pediatric hospital specializing in pediatric cardiology, cardiac surgery, pediatric oncology and pediatric neurology. There are 5 major public hospitals covering all pathologies.
Cost of living: the average net salary is around €1,540/month, while rent for a 3-bedroom T4 apartment costs €1,200 in the city center and €780 outside. This makes you want to move to the surrounding area, and that's perfect because Turin has excellent public transport networks.
Transport: the city has an excellent public transport system. Getting around by tram, bus and metro is obvious. The network of cycle paths is particularly well-developed, ideal for families who like to cycle.
Activities and green spaces: the Parco del Valentino is one of the city's largest parks, with a 15th-century castle and picturesque gardens. The park is equipped for children's entertainment.
Expatriate communities in Turin: the city is close to the border, so there is a large French and Swiss community.
Favorite districts for expatriates: San Salvario (multicultural and lively), Quadrilatero Romano (historic), Vanchiglia (artistic), Crocetta (residential district), Centro (culture and fashion).
The city is steeped in history and has a soul, with its museums, art galleries and historic monuments. The Mole Antonelliana, a Turin landmark, is home to the National Cinema Museum. For the kids, a trip to the Planetarium is a must and, of course, the whole family will want to visit the Juventus Museum, one of the most closely followed soccer teams, along with AC Milan.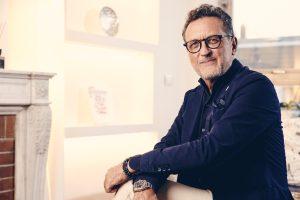 Consultant testimony – Fabrizio Pezzoli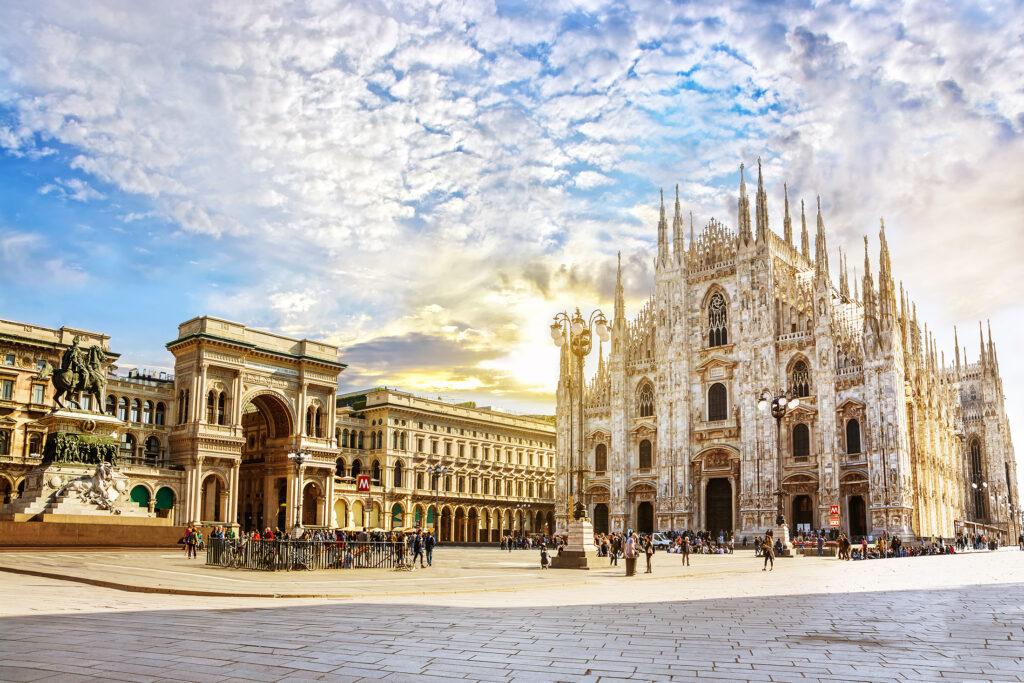 Piazza Duomo, Milan
Milan, the fashion capital of the world
Milan is Italy's economic capital and one of the country's most dynamic and cosmopolitan cities. If you consider work to be the key criterion for expatriation and relocation, you've got another chance to live in Italy.
The leading employer is the fashion and luxury goods industry. Gucci, Prada, Fendi and Armani are all headquartered in Milan. The best representation of the sector is in « Via Montenapoleone », home to Italy's most expensive stores.
You could be an employee of IBM, Hewlett-Packard or SAP and benefit from a transfer to their Milan offices. Or work for a hotel chain or tourism company and benefit from a mobility plan.
Here's everything Milan has to offer:
Price per m²: €8,867 in the city center and €4,560 in the suburbs.
Population: 1.3 million in Milan alone (Italy's 2nd largest city) and over 8 million in the entire metropolitan area.
Schooling and international schools: public, bilingual or international, your choice is all the wider. Choose the French Lycée Stendhal or the American School of Milan, which welcomes students from all backgrounds.
Health: private centers are particularly renowned. The Fondazione IRCCS Ca 'Granda Ospedale Maggiore Policlinico provides specialized care and surgery for rare diseases. Humanitas, a private center, is world-renowned for its sophisticated technological innovations. The main hospital is the Ospedale Maggiore Policlinico.
Cost of living: obviously, this is a more expensive city. Expect to pay €2,600/month for a T4 apartment in the city center and €1,700 outside. The average salary is €1,700.
Transport: cabs are a good option for getting around Milan, but you can also count on the 13 streetcar lines or 4 veloce metro lines, as well as buses and trolleybuses. The city has also set itself the goal of becoming the city's bicycle capital by 2035, with ultra-modern facilities. We trust them!
Activities and green spaces: There are many, so here are the main ones:
– Parc Sempione: this large urban park is the lung of the city center and offers a combination of attractions: cafés, footpaths, children's play areas and a wild animal zoo.
– Botanical Garden: located to the east of the city, this is a beautiful open green space where visitors can admire rare plants. The garden offers a range of activities, including gardening courses, seminars on local flora and open-air painting workshops.
– Parco Monte Stella: this popular green area is located in north-west Milan near the university district. It is a large forest surrounded by a variety of recreational activities, including an artificial lake designed for canoeing.
– Giardini Monty Python: here you'll find a sports club with soccer and basketball pitches, and a multimedia room with a very modern design where visitors can watch films.
Expatriate communities in Milan: you'll find your fellow Belgians, French, British, Germans, Spaniards and many Americans too.
Expatriates' favorite neighborhoods: Brera (bohemian), Navigli (for young people), Porto Venezia (international district), San Babila (fashion and luxury), Isola (booming, for young people).
Milan is not only a beautiful travel destination, but also a city with much to offer expatriate families.
Bologna, capital of the Tortellini
Let's leave Lombardy for the province of Emilia Romagna. We're getting closer to Florence.
There's a different art of living in Bologna. There's a whole artistic ecosystem, making life seem like a never-ending vacation.
What's more, it's a city that loves innovation, with many incubators. This is due to the presence of universities and research centers, with many jobs in these sectors. As it's also a tourist and student city, it's particularly dynamic.
iad Overseas says yes to Bologna for an expatriation to Italy with your family!
Price per m²: an affordable city, €4,200 in the city center and €2,700 outside.
Population: 400,000 Bolognese, and just over 1 million including the metropolitan area. A young population, of school and working age.
Schooling and international schools: the city boasts a number of schools with non-contractual educational objectives, such as the Montessori school and the Associazione per la pedagogia steineriana e Scuola Steineriana Maria Garagnani. International sections can be found in some public high schools (Galvani), and Bologna boasts the American International School of Bologna (AISB), which offers a standardized American education for students from primary to high school. There are also a number of international universities extending the offer of the Bologna faculty alone.
Health: a very good healthcare system here too, with both private and public establishments: the S.Orsola Malpighi, Ospedale Maggiore di Bologna, Ospedale Sant'Orsola and Hospital Sant'Orsola Biomedica Universitario cover the public offer. For a city of 400,000 inhabitants, the structure is well-proportioned.
Cost of living: an average salary approaching that of Milan, at €1,620, but with rents ranging from €1,100 to €1,500 for a four-bedroom. This augurs well for a much better quality of life.
Transport: TPER (Trasporto Passeggeri Emilia-Romagna) runs the bus and streetcar network. Of course, like everywhere else, the city also encourages sustainable mobility, including cycling.
Activities and green spaces: the city of the 2 towers owes its name to Bologna's 2 emblematic towers: La Torre degli Asinelli and Garisenda. At one time, the city was full of them, protecting the great families from bloody battles!Since pacification, here are the places to be with the family:
– Parco della Montagnola: a popular garden northwest of the city center, home to two ponds, landscaped gardens and winding paths covered with centuries-old trees.
– The magnificent Giardini Margherita: a large park in the heart of Bologna featuring monumental fountains, a small artificial lake and a variety of exotic plants.
Expatriate communities in Bologna: expatriates include French, Spanish, German, British and Dutch.
Expatriates' favorite neighborhoods: San Vitale (shopping district), Centro Storico (historic district), San Donato (residential district), Santo Stefano (appreciated for its village-like neighborhood life), Bolognina (multicultural and young).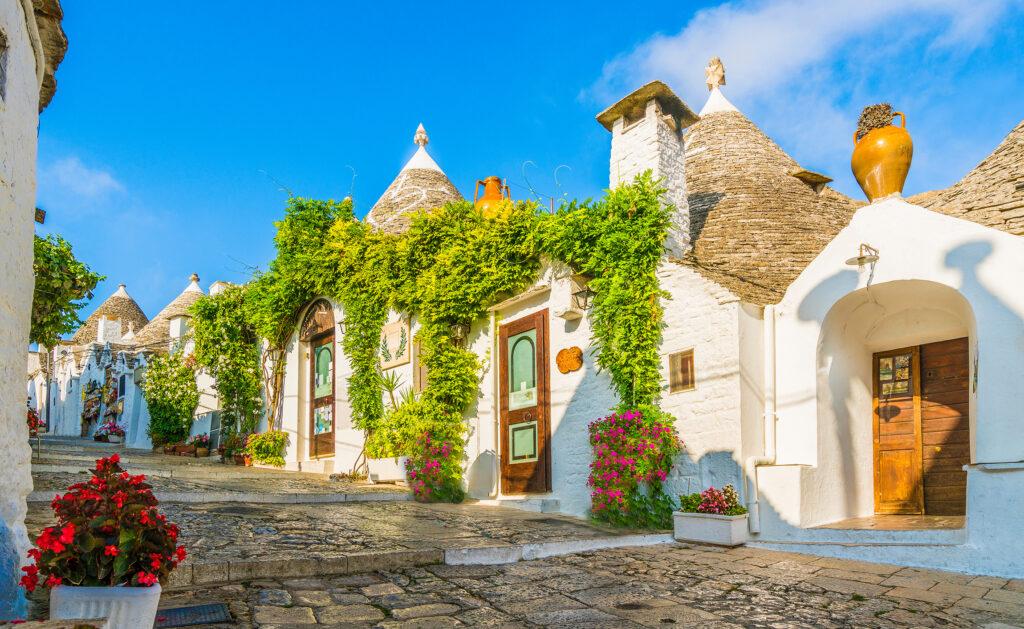 Puglia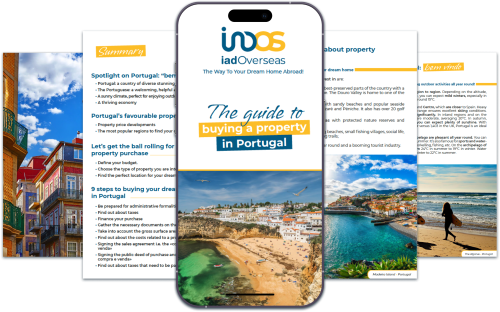 All you need to know
Receive free guides and advice from our experts delivered straight to your inbox.
Get the guide
Life in a small Italian village
If you're planning to move to Puglia and live in a trullo, a traditional house, you'll of course have certain advantages:
Prices per m² average around €1,100. Living in extraordinarily bucolic landscapes, where every child dreams of growing up (and parents love it), is much more affordable than the prices of northern cities, or cities like Rome.
The typical Italian ambience is experienced 100%: access to local foodstuffs, fresh produce, local markets. Families make their own mozzarella and pasta. Everything is homemade. There's a lot to learn, and a lot to pass on.
This way of life is particularly suited to entrepreneurs, freelancers and teleworkers. Your bambini** will say « grazie*** ».
Our advice: identify your needs. If you're a family that loves nature, doesn't need a lot of entertainment and isn't desperate for a busy social life, then you can be perfectly happy in a village.
In terms of logistics, our advice is to check:
Internet coverage: Italy's ambition is that by 2026, the whole country will have a very high-speed connection. As you will have gathered, this is still not the case, and sometimes there isn't even access to broadband. Be careful on this point.
The presence of a school: depending on the age of your children.
Living in Italy as a family: finding the right balance
The family is at the heart of Italian society. So it's a very good idea to move there on your own.
Spending a week there on vacation is not the same as living there for a whole year. That's why being accompanied by one of our iad Overseas consultants* is one step closer to an easy and successful expatriation to Italy.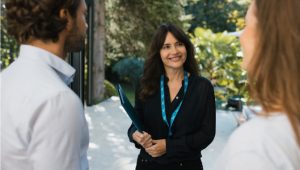 Want to buy abroad?
Tell us about your project, our specialized agents* will guide you!
[] * In France, all iad consultants are independent sales agents of I@D France SAS, registered with the RSAC, and hold a real estate canvassing card on behalf of I@D France SAS (without holding funds). In Spain, Italy, Portugal and Germany, all the consultants are independent agents acting on behalf of the subsidiary to which they are attached (without holding any funds)